Item#: 005656144
Breathe - Leader Kit
:
Making Room for Sabbath
Frequently bought together
This item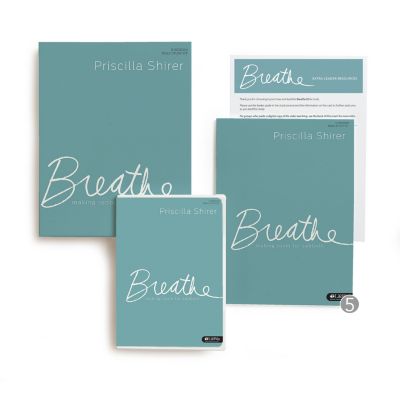 Breathe - Leader Kit
About this Item
Overview
One of the greatest challenges among women in our culture is taking time to cease from all the activities and just breathe. We are in bondage to busyness. We constantly strive to complete the limitless to-do lists that hinder us from experiencing all that God has for us. By neglecting time for tranquility, serenity, and repose, we limit our Christlikeness and miss out on some of God's greatest gifts. In the Old Testament, Sabbath was given to the Israelites as a gift, and it is still a gift to us today. If you are weary, worn out, and exhausted, then the concept of Sabbath will change your life.

Leader Kit includes:
One Bible study book with personal study segments to complete between 5 weeks of group sessions and leader guide to lead discussion within small groups
2 DVDs with enriching teaching videos, approximately 15–35 minutes per session
Card with 3 additional digital downloads of teaching videos
Benefits:
Build margin back into your life for God.
View the Sabbath as a gift for the weary, worn out, and exhausted.
Set boundaries for yourself if you must always be doing something for God.
Video Sessions:
Session 1: The Freedom of Sabbath (35:40)—God gave Israel Sabbath as a gift. However, like us they often viewed those boundaries differently. Often we become frustrated with boundaries. We forget that God wants us to have rest and space to breathe. The Sabbath was intended to bring us freedom and create God margin in our lives.
Session 2: Stops Along the Sabbath Journey (22:20)—In this session Priscilla Shirer introduces three principles concerning the Sabbath. She looks at the obsessions we sometimes have in our culture that crowd our lives. If we are not careful all the enjoyment of life is squeezed out due to the excess that overwhelms us and leaves no room for God margin.
Session 3: Double-Portion Friday (32:57)—Priscilla reminds us that like the Israelites it is important for us to remember our days of slavery. But He doesn't want them staying in that slave mentality. God wants His people living in the promised land where He provides for all their needs.
Session 4: Coming into Focus (35:18)—Our beliefs frame our perspective. Those beliefs influence how we respond to our current circumstances and guide us as we make decisions. We need to remember and recall what the Lord has done in our lives and stand faithful to our beliefs.
Session 5: Sabbath Margin (15:34)—In this closing session Priscilla reminds us that we were not meant for slavery. The Sabbath was set in place for our freedom. Building Sabbath margin in our lives will set us free to experience more of God and the abundant life He has for us.
Shop All "Breathe"
Specifications
Age Minimum

18

Dimension - Height

2.5

Dimension - Length

9.3

Dimension - Width

6.8

Language

English

Medium Format

Kit

Product Group

Bible Study

Product Type

Leader Kit

Publication Date

2014-09-01

Publisher

Lifeway Christian Resources

Sessions

5

ISBN10

1430033452

ISBN13

9781430033455

UPC

634337412290