Item#: 005830200
Anxious - Teen Girls' Bible Study eBook
:
Fighting Anxiety with the Word of God
Frequently bought together
This item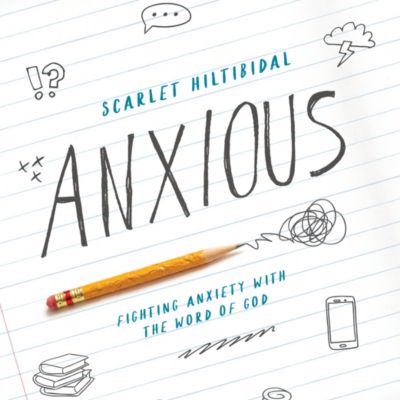 Anxious - Teen Girls' Bible Study eBook
About this Item
Overview
Fight anxiety with the Word of God.

We live in a scary place. We don't need to watch the natural disasters and political unrest in the news to know what our bodies already know. Our bodies get sick. Our minds are fragile. The mortality rate for humans is astonishingly high. There's plenty to worry about, and the world is full of faulty solutions for our anxieties.

But true peace comes when we learn to hold God's Word up to what worries us. There, we learn we can't fix ourselves; we can't protect ourselves. Instead, the Bible tells us we can rest, knowing that Jesus walked into the broken, sad, scary places to rescue us and love us. He is the One who fixes. His is the only protection that matters.

Join Scarlet Hiltibidal in this 8-session study as she shows girls how we can practically take hold of the perfect peace that is only available through God as we dive deeply into His Word, embrace the practice of prayer, and live authentically in the support of our communities of faith.

Features:
Leader helps to guide questions and discussions within small groups
Personal study segments to complete among 8 weeks of group sessions
Practical prompts to help girls apply the Bible to anxious moments and thoughts in their lives
Eight enriching teaching videos, approximately 10–15 minutes per session, available separately
Benefits:
Learn how to fight anxiety with the Word of God so you can take hold of the abundant life Jesus has purchased for you.
Realize you're not alone in your struggle with anxiety by prioritizing community and confession over isolation.
Practice bringing your anxieties to God and come to know prayer as a pathway to peace.
Find consistent encouragement to walk through life (even in anxious times) surrounded by a community of faith.
Video Sessions:
Session 1: Introduction | Anxious to Be Here (10:05)—In this introductory session, Scarlet unpacks how true rest and peace, the opposite of anxiety, can be found in the person and presence of Jesus. She also explains the flow of the study and how in it we'll pursue joy in Jesus through His Word—trusting that He holds eternal peace for His children someday and abundant life for us now.
Session 2: Anxious David (10:05)—In Session 2, Scarlet explores the week's takeaway: Jesus is our shield in the fight against anxiety. She also looks at the life of David and, using Psalm 3, what we can learn from the way that he brought many anxiety-inducing moments to the Lord. She discusses how we can bring our own cares to God.
Session 3: Anxious Jonah (8:45)—As Scarlet discusses the life of Jonah, she helps us understand that we may wrestle with anxiety because we don't trust God's Lordship and surrender to His leadership in our lives. She encourages us to walk in obedience to God's call and seek His kingdom above all else as we experience God's provision (Matthew 6:33-34).
Session 4: Anxious Moses (5:54)—In Session 4, we discuss this week's takeaway: Jesus is our strength in the fight against anxiety. We also look at the story of Moses, highlighting the way God uses weak people to showcase His own strength.
Session 5: Anxious Esther (8:51)—In Session 5, we trace the thread of God's sovereignty in the story of Esther and discuss how God's sovereignty in our own lives and our trust in His character can lead us to confident rest in His goodness.
Session 6: Anxious Prayer (6:35)—As the Bible tells us, there's power in what you set your mind on. We've also learned together that prayer changes how we think about everything, even our worries. In this session, Scarlet walks us through 1 Peter 5:6-7 and encourages us to posture ourselves in humble prayer, coming to God for help as a child would come to a good and loving father.
Session 7: Anxious Reader (7:36)—In Session 7, we discuss this week's main takeaway—the Bible is our weapon in the fight against anxiety. Scarlet helps us understand how to live joy-filled lives by embracing the Word of God and its instructions for us.
Session 8: Anxious Together (7:29)—In Session 8, Scarlet helps us understand how loving the community of God and being loved by it can help us in our fight against anxiety. It can also help us grow more into the image of Christ, learning to love the way that He does.
Shop All "Anxious"
Specifications
Age Minimum

12

Dimension - Height

0.5

Dimension - Length

9.5

Dimension - Width

7

Language

English

Medium Format

eBook

Number of Pages

192

Product Group

Bible Study

Product Type

Study Guide

Publication Date

2021-08-02

Publisher

Lifeway Christian Resources

ISBN10

1087735947

ISBN13

9781087735948

UPC

840154508591

Age Max

18