Item#: 005837660
Amos - Bible Study Book with Video Access
:
An Invitation to the Good Life
Frequently bought together
This item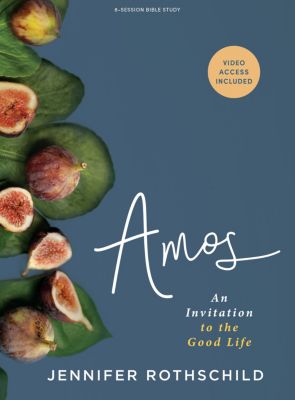 Amos - Bible Study Book with Video Access
About this Item
Overview
Amos is often called a prophet of doom. And when you begin to read his prophecy, it doesn't take long to realize that nickname fits. On the surface, his prophecy doesn't sound like a happy formula for the good life. However, every condemnation he gives serves as an invitation, a cry for us to "seek God and live" (Amos 5:4). You'll be invited to live assured, faithful, chosen, humble, justly, prayerful, and hopeful. This kind of living will bring us and others around us peace and true prosperity.

Amos is promoting the God life, and, the God life is the good life!

Features:
Leader helps to guide questions and discussions within small groups
7 weeks of personal study to be completed between the 8 group sessions
Access to 8 teaching videos, approximately 30 minutes per session, available by redeeming a code printed in the back of the study book

Benefits:
Uncover the connection between the God life and the good life.
Learn how God's care for us prompts us to care for others.
Break hope-stealing habits to reverse self-defeating choices.
Unearth the gems hidden within one of the most overlooked books in the Bible.
Video Sessions:
Introduction: The Good Life is the God Life (24:49)—Jennifer opens up the video teaching by setting the context for the study of the Book of Amos. She paints the picture of the place, people, and spiritual climate in which Amos was called to prophesy. She also gives us a glimpse of the invitations we will open during the study that will show how to truly live the good life.
Invitation 1: Live Assured (35:40)—In the Session 2 video, Jennifer unpacks a story from Elijah's life to remind us that even though we might feel surrounded, we can live assured because of God's presence and protection.
Invitation 2: Live Faithful (26:40)—The teaching in Session 3 challenges us to live faithful. Jennifer will share with us four facts about living faithful, including a charge to remain steadfast even when faithfulness costs.
Invitation 3: Live Chosen (26:45)—Jennifer reminds us in the Session 4 video that we are to live chosen. And because we are chosen, we find our identity in Christ and that we are to be faithful stewards of that identity—living with integrity and purpose.
Invitation 4: Live Humble (26:48)—We are to live humble. That's the focus of the teaching in Session 5. Jennifer will stress that humility is not just an attribute or an attitude but an action. She gives three qualities of a humble woman we are to reflect.
Invitation 5: Live Justly (30:25)—In Session 6, Jennifer helps us understand what it means to live justly. We will see that justice is not activism, but righteous action. And that we are to act justly publicly, privately, and perpetually.
Invitation 6: Live Prayerful (27:58)—Session 7 teaching is a call to pray as Jennifer challenges us to live prayerfully. She shares three things we need to do if we're going to be women who pray like Amos.
Invitation 7: Live Hopeful (27:52)—The last invitation Jennifer will open for us is the call to live hopeful. She will proclaim that because our God is who He is, we are a people who can live with hope, regardless of what we encounter in this life.
Shop All "Amos Bible Study"
Specifications
Age Minimum

18

Dimension - Height

0.534

Dimension - Length

9.5

Dimension - Width

7

Language

English

Medium Format

Paperback

Number of Pages

208

Product Group

Bible Study

Product Type

Study Guide

Publication Date

2022-08-15

Publisher

Lifeway Christian Resources

ISBN10

1087764270

ISBN13

9781087764276

UPC

840154556684