Item#: 005838522
Amor en verdad - Estudio bíblico para jóvenes
:
El amor en verdad espera
Frequently bought together
This item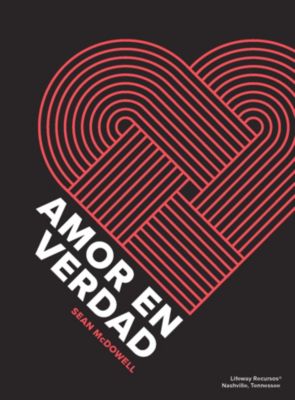 Amor en verdad - Estudio bíblico para jóvenes
About this Item
Overview
¿No es que la felicidad está en hallar el «amor real»?
Desde la música hasta las redes sociales, el sexo está en todas partes. Y muchas personas hoy piensan que el sexo es el camino a la verdadera felicidad. No obstante, Jesús nos mostró que la verdadera felicidad llega al amar a Dios y a los demás. En una cultura saturada con polémica sobre el sexo, la identidad de género, las relaciones entre el mismo sexo, la pornografía, y el abuso sexual, tenemos que preguntas: ¿es posible seguir totalmente el diseño de Dios para el amor y la sexualidad?
Sí, lo es.
Vivimos en una sociedad que nos reta diariamente con una índole de temas complicados sobre la sexualidad, pero Dios no nos abandona para encontrar las respuestas por nuestra cuenta. Él nos muestra Su diseño para el sexo, la soltería y el matrimonio en Su Palabra.
En este estudio de 9 sesiones, Sean McDowell nos lleva en un viaje a través de la Palabra de Dios para responder a las preguntas más difíciles sobre el amor, el sexo, el género y las relaciones. Él nos da consejos prácticos para llevar una vida de pureza que ame a Dios y a otros tanto con nuestro cuerpo y nuestra alma. Aprenderemos a cómo mostrar amor con aquellos que viven fuera del diseño de Dios. Y descubriremos que, el amor de Dios sana nuestras heridas y Su gracia nos libera de la vergüenza y la culpa de los pecados pasados.
Este estudio bíblico te ayudará a:
entender y adoptar el diseño de Dios para el amor, las relaciones, y la sexualidad.
ver que nunca estás muy lejos del perdón y de la gracia de Dios.
aprender a dialogar los temas LGBTQ tanto con compasión como con claridad bíblica.
atender con compasión a las personas que han sido abusadas o que creen de otra manera.
INCLUYE recursos adicionales para liderar el estudio de 9 sesiones: un libro de estudio, videos, y una guía para el líder.

ENGLISH DESCRIPTION


Doesn't happiness come from finding "real love"?
From music to movies to social media, sex is everywhere. And many people today think sex itself is the route to happiness. But Jesus showed that true happiness comes from loving God and loving others. In a culture filled with tension over sex, gender identity, same-sex sexual relationships, pornography, and sexual abuse, we have to ask: Is it really possible to fully follow God's design for love and sexuality?
Yes, it is.
We live in a society that challenges us daily when it comes to tough topics related to sexuality, but God doesn't leave us to find the answers on our own. He shows us His design for sex, singleness, and marriage in His Word.
In this nine-session Bible study, Sean McDowell takes us through God's Word to answer some of our toughest questions about love, sex, gender, and relationships. He provides practical counsel on how we can embrace a life of purity by loving God and loving others with both our body and our soul. We'll learn how to show love to those living outside of God's design. And we will discover that God's love heals our wounds and His grace frees us from the shame and guilt of past sin.
This Bible study will help you:
understand and embrace God's design for love, relationships, and sexuality.
see that you're never beyond God's forgiveness and grace.
learn how to engage the LGBTQ conversation with both compassion and biblical clarity.
respond in compassion to those who have been abused or who believe differently.
ALSO AVAILABLE resources for leading a nine-session group study: one Bible study book, digital downloads, and extra leader resources.
Shop All "Amor En Verdad"
Specifications
Age Minimum

12

Dimension - Height

0.3

Dimension - Length

9.5

Dimension - Width

7

Language

Spanish

Medium Format

Paperback

Number of Pages

128

Product Group

Bible Study

Product Type

Study Guide

Publication Date

2022-02-15

Publisher

Lifeway Christian Resources

ISBN10

1087769760

ISBN13

9781087769769

Age Max

18