Item#: 005841832
Abide - Bible Study eBook with Video Access
Frequently bought together
This item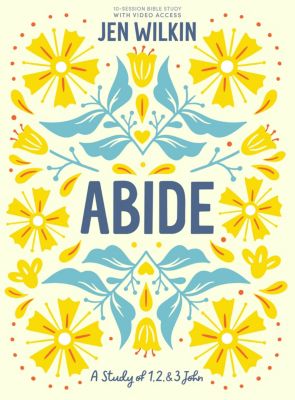 Abide - Bible Study eBook with Video Access
About this Item
Overview
How can we hold onto assurance of our faith? How can we discern the truth from a lie? How can we know God loves us?

In three short letters, the apostle John reminds an early church facing division, deception, and doubt to hold fast to what they know and to live like they believe it. And he reminds us, as well. In this 10-session Bible study on the letters of 1, 2, and 3, John, Jen Wilkin helps you see how two thousand years later, his words call to Christians in similar challenges to recall a great salvation and to abide in the truth.

Lifeway eBooks can be read on your computer, smartphone, or tablet at read.Lifeway.com. Simply sign in using the email address and password that were used to purchase your eBook to find it in your library.

Features:
Leader helps for group discussion
Personal study to be completed between the 10 group sessions
Teaching videos, approximately 35–45 minutes, via redemption code printed in the Bible study book

Benefits:
Study 1, 2, and 3 John verse by verse.
Find encouragement in the truth that God loves you.
Learn to discern the truth of God from a lie.
Be challenged to remain steadfast in your faith.

Video Sessions:
Week One: Introduction | You've Got Mail (46:06)—In this introduction to the study, Jen gives background information for John and the original recipients of his letter. She also highlights some of the main themes that will come up time and again in the letters of 1, 2, and 3 John—the call to walk in righteousness, show love to each other, and guard the truth revealed in God's Word.
Week Two: A Credible Witness (45:50)—Jen's teaching on 1 John 1:1–2:2 walks us through how John establishes himself as a credible witness to Jesus and gives us practical ways we can be the same for others, as people who know Him. We are challenged to be women who are lights in the darkness, who live in a way that promotes the growth of righteousness in others, and to advocate or intercede on behalf of others.
Week Three: The Tests of Righteousness and Love (44:06)—As Jen walks through 1 John 2:3-17, she explains John's first two "tests" that help bring assurance to the sincerity of one's faith—the tests of righteousness and love. She helps us understand what it means to walk as Jesus walked and to love as Jesus loved.
Week Four: The Test of Truth, The Call to Abide (37:55)—For week four, Jen covers 1 John 2:18-29, which includes John's third "test" for assessing one's faith, the test of truth, which we do by holding everything we are taught by others up against the teachings of God's Word. This portion of John's letter also introduces the call to abide in Christ, to make your home in Him.
Week Five: Practice Righteousness, Pursue Love, Possess Assurance (47:53)—With this week's teaching of 1 John 2:29–3:24, Jen examines what it means to be a part of God's family, to be "called children of God." In response to John's teaching, Jen challenges us to make confession a regular practice, love others actively, and rest assured in our identity as children of God.
Week Six: Truth and Error; God Is Love (46:02)—In this video, Jen walks viewers verse-by-verse through 1 John 4, which includes John's encouragement to test what you hear others teach against the truths revealed in God's Word. Jen goes on to explain what it means that God is love and that He challenges us to love because He first loved us.
Week Seven: Overcoming the World (34:32)—The final chapter of 1 John begins with John revisiting the themes that have been central to his letter—the tests of righteousness, love, and truth. Jen walks through 1 John 5:1-12, highlighting John's challenge to believe the testimony that God establishes about Himself, and to show that you love God by obeying His commandments.
Week Eight: That You May Know (40:30)—Jen brings her teaching of 1 John to a close with the remaining nine verses of John's letter, which wrap up with a strong emphasis on knowing that you have eternal life and the encouragement to pray according to the will of God. John wants his readers to believe with confidence that they are secure in Christ and that God hears their prayers.
Week Nine: Walk in Truth and Love (49:04)—Jen transitions her teaching to the letter of 2 John, a letter with similar themes to 1 John but originally written for a narrower audience, an individual church. Jen unpacks how this "memo" from John continues his encouragement to walk with God in truth and love, and what it teaches readers today about dealing with conflict and difficulty in the body of Christ.
Week Ten: Imitate Good (44:47)—In this final week, Jen walks through the epistle of 3 John, a letter John wrote to an individual named Gaius. Jen addresses how this letter is similar to 1 and 2 John in language and themes, and looks for new themes it introduces. This letter reminds us that the problems of the early church are our problems, and the assurances of the early church are ours as well. Jesus abides in you. Abide in Him.

​
Shop All "Abide"
Specifications
Age Minimum

18

Language

English

Medium Format

eBook

Product Group

Bible Study

Product Type

Study Guide

Publication Date

2023-01-02

Publisher

Lifeway Christian Resources