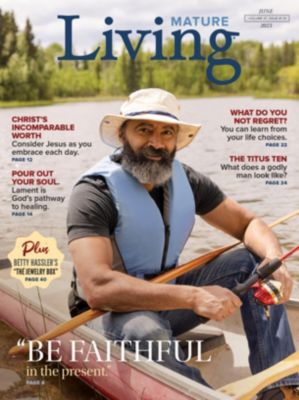 Living a Christian Legacy
Mature Living is a trusted voice to speak to your spiritual needs. Articles written by some of the most beloved and respected Christian authors guide you into deeper biblical understanding with application for a closer walk with God.
Leisure reading includes inspiring stories, slice-of life accounts, and light-hearted looks at life with a biblical perspective. Enjoy helpful articles on strengthening your marriage, relating with your adult children, grandparenting, and caregiving.
You'll also find exciting ways to use your spiritual gifts, time, and resources. Take each issue to heart as you grow in your relationship with Christ and impact those around you.
Bonus Features:
Knowing Christ

Read-The-Bible-Through Plan

Recipes, Biblical Puzzles, and Inspirational Coloring Page
Order online or call customer service at 1.800.458.2772.