Jesus Christ inhabited time and space in the first century and is recognized around the world as the most loving, powerful, and influential person ever to have walked the earth. But also this: His entire life is a vivid illustration of the priority of identity.
At thirty years of age, Jesus arrived in Judea to be baptized by the prophet John, who was assigned to prepare the way for the coming Messiah. The Gospels of Matthew, Mark, and Luke all report that at His baptism, Jesus came up out of the Jordan River, and eyewitnesses heard a voice thunder out of the heavens, saying:
"This is my beloved Son, with whom I am well-pleased" (Matt. 3:17).
Now consider the significance of this affirmation at the genesis of Christ's public ministry. God could have said, "Go evangelize the world," or "Do the right thing," or "Fulfill My law," or "When You die, fear not; I will bring You back." But instead of endless other possibilities, Jesus' heavenly Father went straight to the heart and spoke specifically about His Son's identity. This was the priority of heaven.
Identity took precedence over instruction.
Interestingly, God declared this audible blessing of love and acceptance before Jesus had preached one sermon, called even one disciple, performed His first miracle, or completed His Father's will. God wanted everyone present — including His Son — to hear exactly who Jesus was and how deeply He was already loved in the eyes of His heavenly Father.
Immediately, the Holy Spirit led Jesus into the wilderness to be tested by Satan for forty days. Both Matthew 4 and Luke 4 state that two of the three recorded temptations that Christ encountered were specific attacks aimed at, of all things, His identity. The tempter kept repeating, "If you are the Son of God …" (Matt. 4:3); "If you are the Son of God …" (v. 6). That was his allurement, inciting Jesus to compromise in order to prove who He was.
Satan knew that Jesus' integrity and desire to live out His identity was a powerful motivator that would strongly influence His decisions. But Jesus consistently responded with the truth of Scripture rather than His own feelings. Despite intense pressure, He trusted what His heavenly Father had already lovingly affirmed.
The Spirit of the Lord is on me, because he has anointed me to preach good news to the poor. He has sent me to proclaim release to the captives and recovery of sight to the blind, to set free the oppressed, to proclaim the year of the Lord's favor.

Luke 4:18-19
After this experience, Jesus traveled back to His hometown in Nazareth, walked into the synagogue, and publicly read what the book of Isaiah had prophesied as the job description for the Messiah. Jesus was publicly declaring who He was, acknowledging His calling to "preach good news to the poor" and to "proclaim release to the captives and recovery of sight to the blind, to set free the oppressed" (Luke 4:18–19).
The local citizens did not realize He was their Messiah, so they immediately questioned it. "Isn't this Joseph's son?" (Luke 4:22). Rather than embrace their long-awaited Savior, they were filled with rage and tried to kill Him instead. Jesus' first day of ministry ended in attempted murder. But He knew this was only the beginning, so He walked through the midst of the angry crowd, left Nazareth, and went out to fulfill His mission.
Over the next three years, Jesus founded His entire ministry not on His education, or on the people He knew, or on the miracles He could do, but only on who He was and is. Everything He said and did flowed out of His identity. His teaching was not just brilliant instruction but was modeled by His life.
Regularly, He personified His messages to meet the needs of the audience in front of Him. He wanted to specify what some of the various elements of His identity meant. For instance:
His identity guided His actions. "I am the good shepherd. The good shepherd lays down his life for the sheep" ( John 10:11).

His identity explained His access. "I am the way, the truth, and the life. No one comes to the Father except through me" ( John 14:6).

His identity clarified His authority. "I am the resurrection and the life; he who believes in Me will live even if he dies, and everyone who lives and believes in Me will never die" (John 11:25–26, NASB).
Jesus did not merely declare bold things, but He backed them up with actions and power. After proclaiming, "I am the resurrection and the life," for example, He immediately confirmed it by raising a dead man (Lazarus) from the grave.
His life and ministry demonstrated that knowing our God-given identity is a key priority for each of us, and allowing God to be the One to help us discover it and live it out is foundational to fulfilling our purpose in life.
Excerpted and adapted with permission from Defined by Alex and Stephen Kendrick. Copyright 2019, B&H Publishing Group.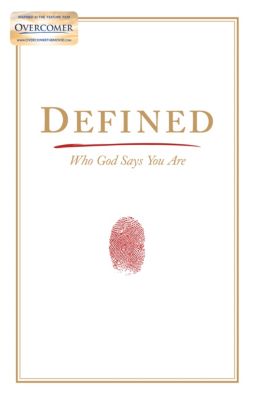 Inspired by the Kendrick brothers' new movie OVERCOMER, and written by the #1 New York Times best-selling author team behind The Love Dare and The Battle Plan for Prayer, comes an exciting new resource about discovering your God-given identity and embracing the wonder of who you were created to be.
Based upon powerful insights from the scriptural book of Ephesians, and seasoned with personal stories and practical wisdom, Defined challenges you to let the One who knows you best be the One who guides your heart the most. It's time for all of us to live in the amazing light of His acceptance, abundance, and strength.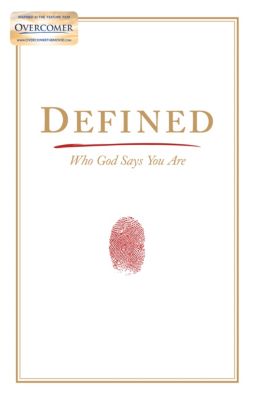 Defined, a book by Alex and Stephen Kendrick, challenges you to let the One who knows you best be the One who guides your heart the most.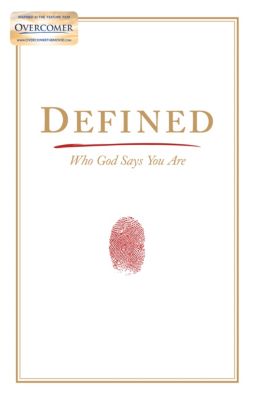 In Defined Bible study, by Alex and Stephen Kendrick**,** you will learn what Scripture says about how God is, and who God says we are.