People often use the word "encourage" without thinking about what it really means. "Be encouraged, it could be worse," we are told. "Don't be discouraged; hold your chin up," we tell others. But what does it really mean.
Encourage comes from the Old French en (make, put in) and corage (courage, heart). Literally it can be understood as "make to be heartened" or "put courage into." It is less about feeling happy and more about having courage. Encouragement is to put courage into someone or to have courage put into you. Encouragement, then, prepares us to stand fast or move forward in the face of fear. (Discouragement is the loss of courage.) Below are six Bible verses that can put courage into us.
Courage to stand in the face of temptation.
"No temptation has come upon you except what is common to humanity. But God is faithful; he will not allow you to be tempted beyond what you are able, but with the temptation he will also provide a way out so that you may be able to bear it." — 1 Corinthians 10:13
Many times God's children are discouraged when we give in to temptation and sin. Sometimes, when we are dealing with a stronghold sin even the thought of failing again can cause us to lose courage in the face of it. How does Paul put courage into us? Every temptation you face is the same as what is faced by other people; you haven't been selected for extra abuse. Not only that, God puts a limitation on temptation and will never allow us to be tempted so strongly that we cannot say no to it. So, take courage; God has already made it possible to overcome any temptation you face.
God delivers us in life's wars.
"The Lord is my strength and my song; he has become my salvation. This is my God and I will praise him, my father's God, and I will exalt him." — Exodus 15:2
After being delivered safely through the Red Sea, Moses and the children of Israel took time to celebrate God's victory over Pharaoh's army. They remind each other as they praise God that He is their strength and their song and "has become my salvation." God is our salvation in all of life's wars, not merely at the moment of our conversation.
God has the power to help us.
"For I am the Lord you God, who holds your right hand, who says to you, 'Do not fear, I will help you.'" — Isaiah 41:13
In this chapter God reminds the people of Israel of his all-surpassing power, telling them the coasts and islands are afraid of him and that the entire earth trembles (v 5). It is God who is able to subdue the nations that would threaten them, making them like "dust' and "wind-driven stubble" (v 2).
If God were unable to help us that would be of little encouragement when we feel threatened. But God is able and He is willing. Therefore, take courage in the presence of God who will hold your right hand in the midst of whatever enemy you face.
We can be encouraged that fear is not from God.
"For God has not given us a spirit of fear, but one of power, love, and sound judgment." — 2 Timothy 1:7
Only eternity will reveal how many times God's people were given courage simply knowing that God does not cause us to fear. It is not God who causes us to lose courage; it is he who gives a spirit of power, love, and sound judgement.
When you are fearful, when you lose courage, recognize immediately it isn't God behind it and run to this verse for encouragement.
God's attributes should encourage us.
"The Lord is my light and my salvation — whom should I fear? The Lord is the stronghold of my life — whom should I dread?" — Psalm 27:1
What about God can help us take courage? It's as simple as knowing who God is.
Many years ago, my wife was diagnosed with Hodgkin's Disease, a cancer of the lymphatic system. We were in our early 20s, our firstborn was barely 2 years old, and we had no idea what the future held. Psalm 27:1 was the verse I first memorized. It reminded me of who God was to the psalmist and who God is to me: my light, my salvation, and the stronghold of my life. It is not too much to say this single verse shaped my entire life's view of fear and courage.
We can be encouraged that God does not leave us alone.
"I do not leave you as orphans; I am coming to you." — John 14:18
When Jesus told his disciples that he was going away, it must have been incredibly disheartening. They learned from His every word; they had seen mighty miracles. Now He was to leave them? His promise to them address that very fear: I will orphan you.
Abandonment and aloneness are real, ongoing sources of discouragement. Does anyone care about me? Will I always be by myself? Does God remember me? Take courage, child of God, Jesus never forgets you. He comes to us in the same way He came to the disciples: in the presence and power of the Holy Spirit.
We face many situations life where losing courage is a possibility. Be thankful that God, in so many ways, puts courage into us, enabling us to face whatever circumstance lies ahead.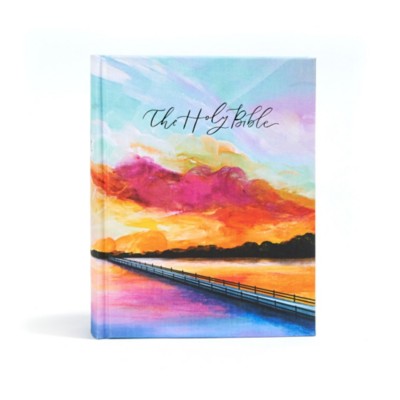 Designed in partnership with the creative team at Hosanna Revival, the CSB Hosanna Revival Notetaking Bibles feature unique hand-painted cover designs with easy-to-read single columns and a generous margin for personal design and journaling. They also include a one-year Bible reading plan, concordance and full-color maps.