This is an excerpt written by David Powlison from the CSB Life Counsel Bible.
After open heart surgery, I experienced shattering and debilitating fatigue for five years. I said to my wife many months after surgery, "I feel like someone who took his car in for repairs. The car I got back turned out to be a junker." The wounds had healed, but my body didn't work.
Fatigue destroyed much of my life. I had no resilience. I was able to do only the bare minimum in every area of my life. I had to let go of many things that were valuable, gratifying, and joyous. My social circle became smaller and smaller, finally narrowing down to family and a few friends. My ministry life—counseling and teaching—was severely curtailed.
Because of my deep need for God, my relationship with him became more intimate.

David Powlison
Although I lost much of my social connectedness and ministry, God's ministry to me and his social life with me became incalculably precious and sweet. Because of my deep need for God, my relationship with him became more intimate. Psalm 46 assured me, "God is…a helper who is always found in times of trouble." The essential dynamic of my moments and days became, "Lord, this is trouble. Help!" And he helped.
I faced five years of mystery, with no explanations. Finally, we found both an explanation and a cure. Perhaps you also will find a cause and a cure, but for now you must learn to live well within fatigue's limitations. You will have to learn how to think, feel, choose, believe, love—and not sin—while you feel like a "smoldering wick" (Is 42:3). You need to know God and live fruitfully despite your constant weariness. I know that God used my fatigue, difficult as it was, for good in my life. He plans to do the same for you.
"Come to me, all of you who are weary and burdened, and I will give you rest. Take up my yoke and learn from me, because I am lowly and humble in heart, and you will find rest for your souls. For my yoke is easy and my burden is light."

Matthew 11:28-30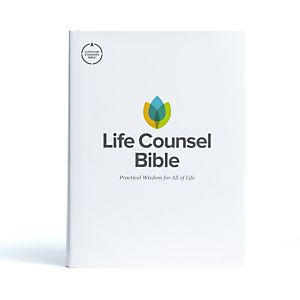 The CSB Life Counsel Bible, developed in partnership with New Growth Press, is designed to equip readers with biblical truth and counsel on a wide range of topics and tough life issues related to relationships, marriage, parenting, and more.