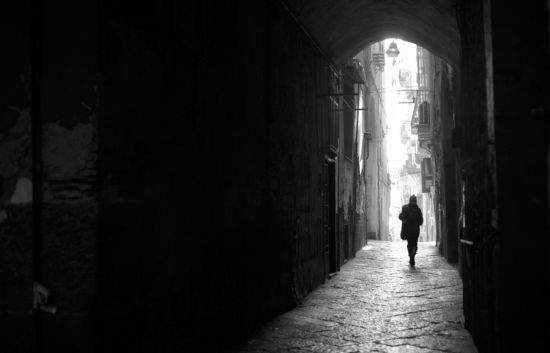 Paul encouraged first-century, Corinthian believers by telling them that they led lives of significance.
It was a necessary lesson in their culture.
The Roman Empire was obsessed with class. If you were born to a farmer, you lived your life as a farmer. Immigrants weren't treated well by anyone. The wealthy used their power to get wealthier. The families born into political power did whatever it took to keep that power.
Maybe that culture wasn't so different from our own.
The Crazy Truth About God's Grace
At times we're obsessed with our place in the world. Paul used the example of the human body to help the Corinthians understand that everyone has a place in the church: "You are the body of Christ, and individual members of it" (1 Cor. 12:27).
The grace of God has done the work of justifying us before God's judgment on sin. Now His crazy grace is sanctifying us so that our lives will imitate Jesus.
God's crazy grace is unchanging, and just as life-changing today as it was two thousand years ago. It's plain to see throughout Paul's letters in the New Testament. Those truths apply are just as relevant and timely for us.
One day, when we move from here into eternity, we'll be glorified so that we no longer deal with sin's consequences from this life.
Learning About Spiritual Gifts
In the meantime, God has invited us to participate in His mission of grace to the rest of the world. To do that, He's chosen to equip us with spiritual gifts. The gifts are listed and discussed in several places in the New Testament.
The lists of many types of gifts in Scripture show that God wants to use us in many different ways.
Some of the gifts are for speaking the truth, so some in the body of Christ are skilled at preaching, teaching and talking about the Scriptures.
Others are especially gifted in areas of service. They aren't comfortable leading a group discussion, but they're amazing at encouraging others, exercising hospitality or working in mercy ministries.
Still others have gifts like faith, leadership or administration. The lists we read in the New Testament show that God is interested in expressing grace in a multitude of ways.
The Body of Christ
By recognizing how other people have ministered grace to us, we're encouraged to do the same for others. Throughout 1 Corinthians 12, Paul taught about our place in the body of Christ from several different angles:
"As the body is one and has many parts, and all the parts of that body, though many, are one body—so also is Christ. For we were all baptized by one Spirit into one body—whether Jews or Greeks, whether slaves or free—and we were all made to drink of one Spirit. So the body is not one part but many" (1 Cor. 12:12-14).
In these verses, Paul stated that as part of the body, our differences are not a cause for distinction but a celebration of diversity. When he wrote this letter, the church had people of Jewish descent and Greek descent. The church also had members who, according to society, were free citizens and indentured slaves.
The point Paul made is that the gospel does something new in us.
The crazy grace of God unites people who'd once been divided by social standards.
Excerpted from Derwin Gray, Crazy Grace Bible Study. © 2015 Lifeway Press. Used by permission. Scripture quotations are taken from the Holman Christian Standard Bible®, Copyright © 1999, 2000, 2002, 2003, 2009 by Holman Bible Publishers. Used by permission. Holman Christian Standard Bible®, Holman CSB®, and HCSB® are federally registered trademarks of Holman Bible Publishers.
---
BONUS: Learn About Derwin's Book & Bible Study
It's a complicated world. And it's only getting more complicated, especially for disciples striving to live as Jesus wants us to live. When faced with current challenges, believers often long for the good old days of the New Testament church. In reality, the culture and the church were just as crazy then as they are today—rampant sexual immorality, racial prejudice, social and economic segregation, and arguments and divisions over favorite spiritual leaders.
Ministering to the church in Corinth, the apostle Paul addressed many of these issues. His first letter to the church contained this life-changing truth: the heartbeat and lifeblood of the Christian life is grace.
This study provides a clear and compelling path to the kind of grace that leads to compassionate ministry and influential witness even on the margins of life.
---
Articles Recommended for You
Author Jennifer Rothschild tells the remarkable story of Hosea, one that tells the bigger story of God's merciful, redemptive, unconditional love for everyone.
Popular author Angie Smith shares her personal story of "biblical insecurity," how she found hope in an unexpected place and one important fact about the Bible.
Paul's ultimate goal in prayer is that Jesus' name may be glorified in us and that we may be glorified in Christ.