The world's largest Christmas project of its kind, Operation Christmas Child (OCC) is a project of Samaritan's Purse that uses gift-filled shoeboxes to demonstrate God's love in a tangible way to children around the world.

Since 1993, Samaritan's Purse has collected and delivered more than 124 million gift-filled shoeboxes to children in more than 150 countries and territories through Operation Christmas Child.
With your help this year, Operation Christmas Child hopes to collect enough shoebox gifts to reach another 11 million children.
Here's an easy guide for packing your box.
1. Find a Box
Use an empty cardboard or plastic shoebox (average size). You can wrap the box and lid separately, but wrapping is not required.
2. Determine Your Recipient (Boy or Girl)
Decide whether your gift will be for a boy or a girl, and the age category: 2-4, 5-9, or 10-14.
Print and cut out the appropriate label on page 2 of this PDF.
3. Fill It Up!
Pack the box with a variety of gifts. (Check the prohibited items and the FAQ at the end.)
Toys: Start with a central item that a child will cherish, like a beautiful doll, a deflated soccer ball with pump or a plush stuffed animal. Then add quality items like cars, musical instruments, puzzles, jump ropes, etc.
School Supplies: Add pencils, pens, crayons, notebooks, coloring books, etc.
Hygiene Items: Toothbrushes, bar soap, washcloths, combs, etc.
Accessories: socks, hats, t-shirts, flip-flops, hair bands, sunglasses, etc.
A Personal Note: Include a photo of you and your family/group. If you include your name and address, the child may be able to write back.
For Younger Children:
Blankets, sticker and picture books, blocks, finger puppets, pages of colorful stickers.
For Older Children:
Small tools, tape measures, sewing kits, fabric squares, etc; deflated balls with pumps and needles; solar calculators, rulers, scissors; jewelry; deodorant
4. Include $9
A donation of $9 per box is critical to transport your gift and deliver it into the hands of a child in need. There are two options of shipping labels.
For a Standard Shipping Label: Add $9 to your box by check to Samaritan's Purse (note "OCC" on the memo line) and place it in an envelope on top of the items inside your shoebox.
For a Follow-Your-Box Shipping Label: Donate your $9 at the official OCC site to discover the destination of your shoebox. OCC will email you a special FollowYour-Box label to print and use. Later, you'll receive a notification about the destination of your shoebox gift.
5. Pray
Ask God to use your gift to show His love to the child who will receive your shoebox.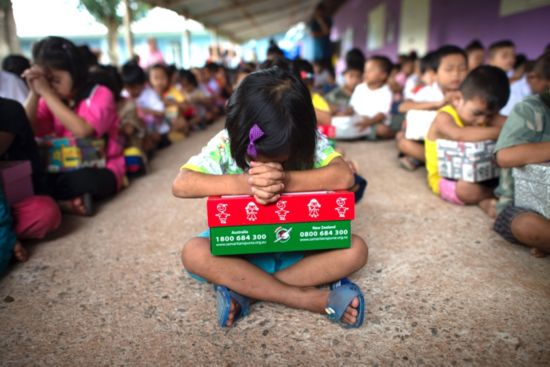 DO NOT Include These Items
Certain items shouldn't be included in the boxes:
Used or damaged items
War-related items
Toy guns
Knives
Military figures
Seeds
Chocolate or food
Liquids or lotions
Medications or vitamins
Breakable items such as snowglobes or glass containers
Aerosol cans
BONUS: Frequently Asked Questions
Are playing cards allowed?
Yes! Playing cards can be included in your shoebox gifts.
How about little toys like spiders, bugs, snakes, etc.?
All of those items are allowed.
Can we include batteries?
Yes. However, if the batteries are loose, both ends must be covered with tape.
Can videos, CDs, and DVDs be included?
Yes, all of these may be included in your shoebox gifts. However, keep in mind that the children may not have a DVD player or CD player available.
Can we include paint sets or glue bottles?
No, both of these items are liquids and can't be included in your shoebox gifts. However, dry paint sets (such as watercolors) or glue sticks are OK to pack!
Can we include a toolkit with nails, screws, screwdrivers, and hammers?
Yes! The only tools that can't be included are saws or pocketknives.
Are scissors OK?
Yes! Scissors are OK to include in your shoebox gifts.
Can items with camouflage be included?
If the child can wear or use the items without looking like a soldier, they are OK to include in your shoebox gift. Pink or colored camouflage is safe as are pencils, wallets, or socks.
Are squirt guns allowed?
Squirt guns can be included as long as they do not look like real guns. Brightly colored squirt guns are great to pack in your shoebox gift.
Can glow sticks go in a shoebox gift?
Yes, glow sticks are OK to pack in your gift. If the tube breaks, the liquid does not spill out and can't damage other items.
Can we include wet wipes?
Yes, wet wipes do not have enough liquid to spill out into the shoebox so they are OK to include in your gift.
Can rubber balls be included if they have liquid glitter inside?
No, these would be considered inappropriate because of the liquid.
What type of candy is allowed in shoebox gifts?
Appropriate candy includes candy corn, gummy bears, caramels, taffy, gum and Tootsie Rolls. For all of these, make sure that the expiration date is at least six months after National Collection Week. You may not include Hershey Kisses, Snickers bars, or any other chocolate, fruit roll-ups, fruit snacks, or drink mixes such as Kool-Aid due to customs regulations.
Is lip gloss OK to pack in a shoebox gift?
Lip gloss is a liquid and can't be included. However, Chapstick, lip balm or lipstick can go!
Can I include toothpaste in my shoebox?
Toothpaste is allowed in shoebox gifts as long as the expiration date is at least six months after National Collection Week.
Is Play-Doh OK to pack in a shoebox gift?
Yes, Play-Doh can be included in your shoebox gift. However, some children might think it is edible.
Can compact mirrors go in a shoebox gift?
Yes. Compact mirrors can be included because if the glass shatters, it will be contained.