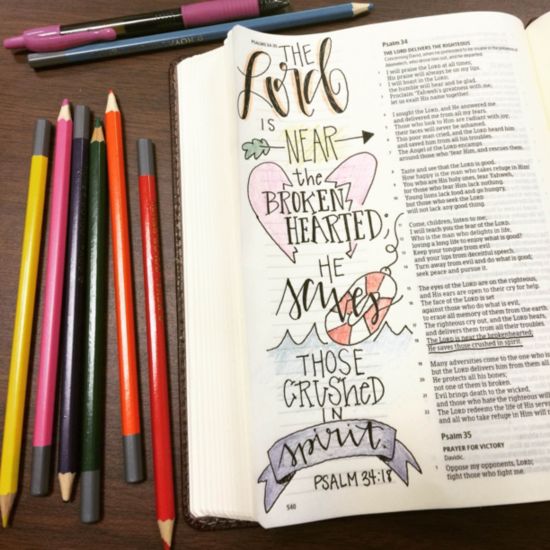 What Is Bible Journaling?
Bible journaling is an exciting way to engage with Scripture. It can transform the way you spend time in the Word and it all begins within the margins of the Bible.
If you're new to Bible journaling and want to learn more about it, read What Is Bible Journaling?
Before You Begin
Before you begin, you'll need a journaling Bible and possibly some other items. Here's a list of supplies that we found to be most helpful when Bible journaling.
When you have the necessary tools, it may feel like a daunting task to put your pen to paper, but we have six easy steps to get you journaling in the right direction.
Step 1
Read and reflect on the Scripture. In what ways does this Scripture apply to you and your life right now? For the purpose of this article we will focus on Proverbs 3:5-6 as our example.
Trust in the Lord with all your heart, and do not rely on your own understanding; think about Him in all your ways, and He will guide you on the right paths.

Proverbs 3:5-6, (HCSB)
Step 2
Pick out words in the Scripture that stand out to you. Let's call them key words. For example: "trust," "Lord," "all," and "heart." These words might be ones that stand out to you more than others.
Step 3
Think about how you visualize these words. For example, with the word "Lord," you can use very strong lettering. While with the word "heart," you might use cursive writing and add a heart around it. It's really up to you—be creative!
Step 4
Sketch out your drawing with a pencil. You can also, of course, use a pen if you're comfortable doing so.
TIP: You can do this step in your Bible. If you are not comfortable writing in your Bible yet, you can do this on an extra piece of paper. After you are finished, re-sketch the drawing in your Bible or the art in your Bible, using Washi tape for a neat look.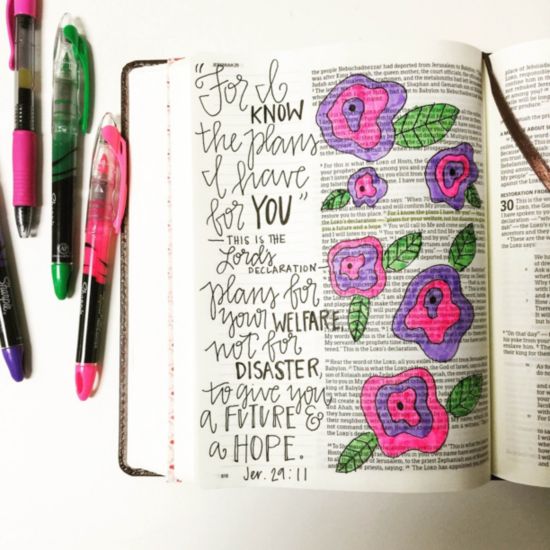 Step 5
Once you have drawn over the design with a pen, use color to fill in your design. Watercolor, colored pencils, crayons or whatever else you feel comfortable with are great options for color.
TIP: Do not put watercolor paint over ink. It will cause the ink to bleed, so it is best to use watercolor over top of pencil and then fill in with ink once the watercolor paint is dry. When using watercolor, it is always best to put an extra sheet of paper underneath the page to eliminate bleeding. Having a paper towel handy to blot excess water is also helpful.
Step 6
Add any additional elements to your page that you would like. Stickers, stamps, fun borders and more will help brighten your page.
TIP: Consider marking pages with Washi tape. You can use the Washi tape on the edges of your page to help the pages in your Bible stand out. Also add the date to the top of your drawing. You will love looking back and remembering the day that God taught you something new about His Word!
Tto practice before you journal in your Bible, download our free Bible Journaling Workbook.