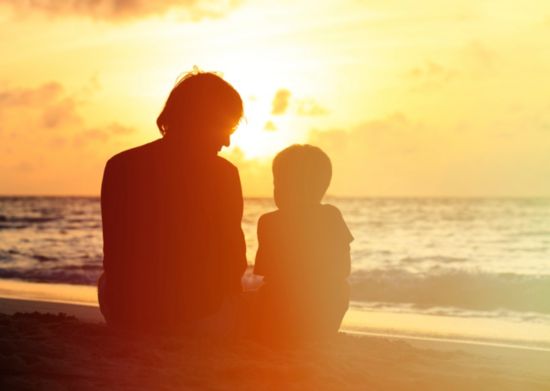 Our children begin to define themselves at a very young age, and the search for identity intensifies as they approach adolescence.
Like all of us, our children will default to finding their identity in what others think or expect—defining themselves by performance or status—or in their own passions, desires, dreams or goals. But what if they defined themselves by what the Bible says?
What our children (and ourselves) need most is to know and believe the truth about who we are in Christ. Below you will find a few tips on how to share the gospel with your child along with a few follow-up questions. Whether this is your first talk or your hundredth, it is our prayer that God will guide your words and actions every step of the way.
1. Say this: "You are created in God's image."

God created everything, but only human beings are made in His own image—we're made to be like God and live in relationship with Him. God knows us best because He carefully formed every tiny detail of our bodies and minds. He made each of us just the way He wanted—we are all "remarkably and wonderfully made"—and He planned out all our days before we were even born.
Ask These Questions:
Look at yourself in a mirror. What do you see? What do you think God sees?
Think about the people in your life—in your family, church, community, school. What difference does it make when you think of them as individuals wonderfully made by God in His image?
2. Say this: "Jesus Loves You."

Everyone wants to be loved.
We do all sorts of things to try to make ourselves lovable—to be smart enough or funny enough or pretty enough or good enough to earn the love of other people. God proved His love for us when He sent His only Son, Jesus, to die on a cross and take the punishment for our sin. He loved us when we were His enemies. We couldn't possibly earn God's love, but He gave it to us freely, and He keeps on loving us no matter what. We are lovable because the great God of the universe loves us, and His great love never ends. Because God fills us up with His love in this way, we can love other people—even the people who don't love us.
Ask These Questions:
Do you think you are a lovable person? Why or why not? Why does God love you?
Think of one person you struggle to love. How can God's love for you enable you to love that person?
3. Say this: "God forgives us and makes us new."

When Jesus died on the cross, He took all our sin, guilt, and condemnation on Himself—and when we put our faith in Him, He gives us His perfect, clean righteousness instead.
Because of what Jesus did—this great exchange—the Bible says God is faithful and just to forgive us when we confess our sins to Him. When God looks at you, He sees not a dirty, guilty sinner but the likeness of His own perfect Son. You have been made new—your heart is changed, and God is continually working to make you more like Jesus. When you trust in Jesus, you can confess your sins to God and to others without fear because you are forgiven.
Ask These Questions:
How does the truth of what Jesus did for us keep us humble? How does the truth keep us from wallowing in guilt?
The Bible tells us to forgive others as we have been forgiven. Knowing how much God has forgiven us, how should we treat other people?
4. Say this: "Nothing can separate you from God."

When you receive Jesus as your Savior, God adopts you into His family.
As a child of God, each one of us is dearly loved and cherished by our perfect Father. Once He adopts us as His own, no one can take us away from Him and nothing could ever separate us from His love. We also share a special family bond with other Christians, because every Christian everywhere who has ever lived belongs to God's family—that's a lot of brothers and sisters! As children of God, we are heirs to a wonderful inheritance. One day we will live forever—together with all of God's family—in the heavenly home He has prepared for us.
Ask These Questions:
How does it make you feel to know God chose you to be His child and adopted you into His family?
Think about the other Christians you know. How can you be a loving brother or sister to them? What about all the Christians you don't know?
As your children grow and develop their sense of identity, guide them to God's Word and the truth of who they are in Christ. If you'd like more information on how to share the gospel, check out the links below.
Article courtesy of ParentLife magazine.
---
Read More Articles for Parents

Some parents virtually hyperventilate when they think about how to share the gospel with their kids. But there are things that all parents should know about this very important conversation.
I had a choice to make. I could connect with my virtual "community" via the little screen in my hand or connect with the flesh-and-blood little girl in the backseat. For once, I put down the phone.
One day, I had a son who would jump in the car after school and tell me what he had for lunch, who he played soccer with, and how the bus driver forgot to drop off the kid down the road. The next day, when he hopped in my car, it felt like I got nothing—no details, no information.