This is an excerpt from Psalms Bible Study by Ray Ortland.
Throughout the Psalms, we find the psalmists wrestling with significant difficulties and traumatic events. Where they might be prone to fearful panic, we find them instead demonstrating full trust and confidence in the Lord.
David faced moments of crisis, too. Those crises did not define his life. Instead, he experienced great success because he grew to know the Lord personally—as shepherd, host, and God. In light of the reality of who God is, David also grew to understand himself as a sheep, a guest, and a worshiper. Whatever the stage of life or circumstances he faced, David's story was always getting better—and so is ours.
Even when we have confidence that we will "dwell in the house of the LORD forever" it can be difficult to believe that goodness and mercy will follow us all the days of our earthly lives. But God is always at work for His glory and our ultimate good. While the Christian faith includes the glorious grace of helpful community, the heart of the psalm is David saying (and us saying along with him), "The LORD is my shepherd." We see no community in Psalm 23. When David first sang this song, he sang it alone. The personal, individual focus of this psalm is not selfish. Real rest for your heart, mind, and soul can come no other way than to actively trust in Jesus and never stop.
The Lord is my shepherd; I have what I need. He lets me lie down in green pastures; he leads me beside quiet waters. He renews my life; he leads me along the right paths for his name's sake. Even when I go through the darkest valley, I fear no danger, for you are with me; your rod and your staff—they comfort me. You prepare a table before me in the presence of my enemies; you anoint my head with oil; my cup overflows. Only goodness and faithful love will pursue me all the days of my life, and I will dwell in the house of the Lord as long as I live.

Psalm 23
"The LORD is my shepherd" stands as the heading over all of Psalms 1-4. Then the rest of these verses tell us more about what it means and what it's worth that the Lord is your Shepherd. Life is hard. You are busy. But life in Christ is rest in motion. You can know that, whatever happens, you will be okay because Jesus Himself has made sure of it. The whole Bible keeps helping us get into this calm frame of mind. Here is the great thing about Jesus our Shepherd, our Host, our God: He can outrun us any day of the week. And He will—faithfully.
Our problem of heart, mind, and soul rest isn't about who Jesus is; it's about our rejection of the reality of who He is. When we do not follow Him as Shepherd, receive His provision as Host, and worship Him as God, our perspective on reality gets wrapped up in an exhausting lie. We will still face those crises of life all by ourselves, needing Jesus personally. Yet, in those moments, our singular pronouns will offer no hope—only despair.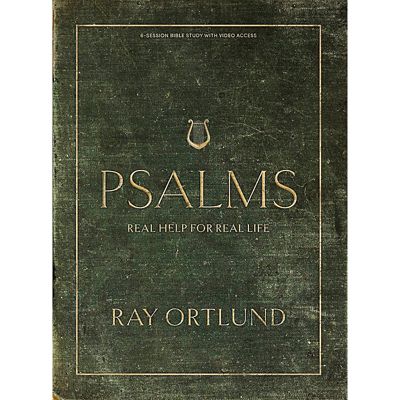 Psalms Bible Study Book with Video Access includes printed content for six sessions, personal study between group sessions, applicable Scripture, "How to Use This Study," and tips for leading a group. Also, each Book contains a unique code that enables you to access free teaching videos for each session.