Church and Ministry Streaming Service - Piksel Faith

Churches that live stream their services reach more people.


During the disruption caused by the COVID-19 pandemic many churches have turned to the internet in order to continue services. Services can be "live streamed" or recorded and offered via the church website or a hosting service. So what does this mean?

Live streaming is similar to watching television where a program is advertised at a particular day and time. People wanting to view the program, switch on their television, select the channel and view the program. Today we are able to offer live programs via the internet, which means people wanting to view the program can go to a location on the internet and click a button to view the service. Churches who have adopted this approach have reported increases in attendance due to the easy access to services. By live streaming services, churches have not only been able to continue during quarantine periods but have also been able to attract people who could not normally attend services in person. This would include elderly people, who are not able to attend church in person and those with disabilities that make church attendance very difficult.
There may be new people living in your community who are nervous about attending a new church. Streaming services gives them the opportunity to experience the church in the safety of their own home, thus giving them the confidence to attend in person at a later date. Some people may not be able to attend the service due to the times they are held. A streamed service can be recorded and made available as a video on demand. This allows people to view the service at a time and place that is convenient for them. This in turn makes the church more accessible to those that do not normally attend. For members who attend regularly, a streaming service will allow them to attend if they are away from home for any reason. Services can be viewed from anywhere as long as there is an internet connection.
---
Learn how Piksel Faith can help your congregation
To get more information on how Piksel Faith can help, get in touch by completing the form below.
---
Monthly Packages for Lifeway Customers
(Pricing for New Customers Only)
Piksel offers a number of services to help churches establish and maintain an online presence. Churches with their own websites can offer live services via their website and can offer a VOD (video on demand) service where people can view the services when and where they want. Piksel offers bronze, silver and gold membership tiers to provide easy entry and graduation to additional features as needed. And we offer a pro package which we can tailor to meet your needs.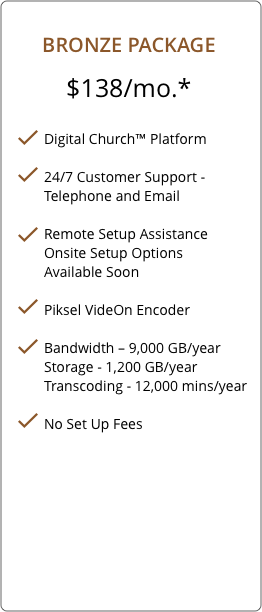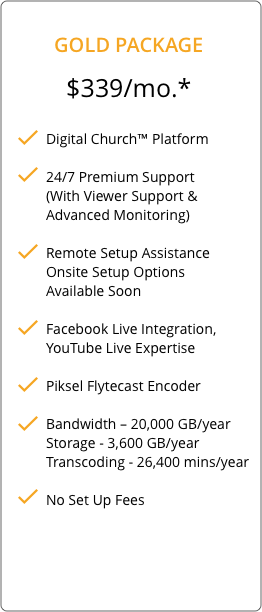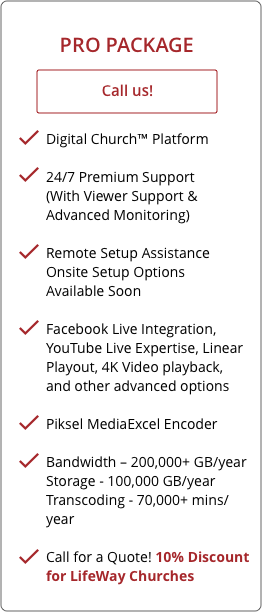 *Based on a 13 month contract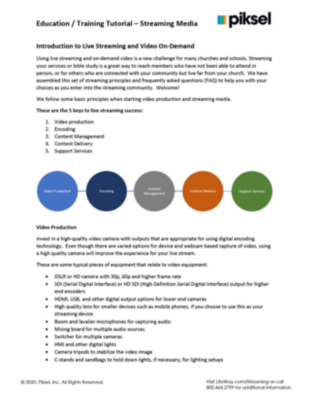 Learn how to select the best streaming service for your church.
This free PDF covers the 5 keys to live streaming success including video production, encoding, content management, content delivery, and support services.
---
Learn more about the Lifeway One Source program. Download Brochure (PDF)
Get updates and deals with the One Source Church Direct email newsletter. Sign Up