Church Interiors Audio, Video & Lighting
As a Lifeway One Source endorsed provider, Church Interiors can help you with all your audio, video, and theatrical lighting needs.

Each Audio/Visual system is designed for your individual sanctuary and worship style. Church Interiors, Inc. is an authorized dealer for hundreds of major brands of sound, video and lighting. Installation, training, and service is provided by the team of certified technicians during your renovations. The sales engineers will meet with you to help specify an appropriate solution within your church's renovation budget. Church Interiors also specializes in acoustical modeling and solutions for your specific worship space.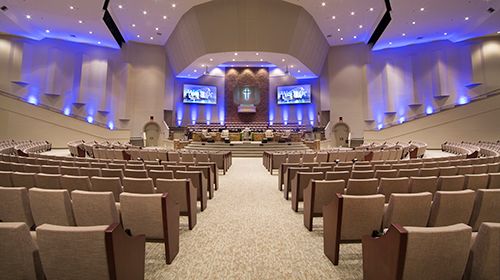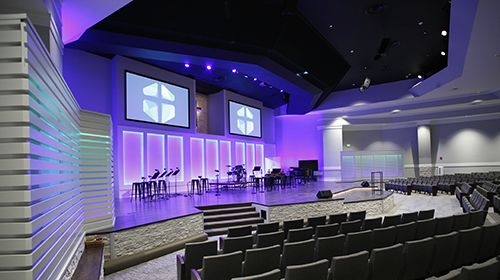 Questions about AV solutions for your Church?
Call us at 800.622.8610 or complete the form below.
---

Audio Visual Equipment

Our sales team is here to assist with all of your audio-visual equipment needs. We understand that sometimes you don't need an engineered system, you just need a single projector, replacement projector lamp, another receiver for your hearing assisted system, a wireless microphone system, etc. We can help determine the best product for your needs and we promise to provide you with the best possible pricing and exceptional customer service.
If you order from the internet you might get a projector lamp that will void your projector warranty, a wireless microphone on the wrong frequency, a projector that isn't bright enough for your space, or even equipment that is obsolete.

Contact CIAv and speak to our sales team who can help you make the best choices. We are authorized dealers for all the major manufacturers and offer very competitive pricing.
Download a PDF of our Line Card showing all the manufacturers for which we are dealers. If you do not see an item or brand, call us anyway. We are constantly adding new lines plus we have partnered with several of the largest distributors so we have access to most anything you might need.

---

Professional Audio
Crisp Clean and Crystal Clear
At Church Interiors Audio and Video, we understand what it takes to engineer and install a quality sound system successfully.
Our audio experts design audio systems for stadiums, auditoriums, meeting spaces and especially houses of worship. Our sound designers are trained to understand how sound systems interact with large spaces, why feedback occurs, and what causes unintelligible speech and music. When you work with CIAv, your new sound system will be tailored specifically to create the optimum performance in your space.

---

Professional Video
Spread Your Message with Images...And Wow


Video has endless ways of being captured, distributed and scaled to your preferences. Our CIAv professionals will guide you through the selection process of determining the correct components necessary for your video needs. Important factors in the process include: switching and control of the video sources; making the system easy to operate, image magnification, recording, and ambient light concerns.

---

Lighting
See things in a whole new light


Professional theatrical lighting is the key to adding more life to any stage or venue. LED fixtures are commonplace because of their energy efficiency, low heat transfer, and vibrant color palette. An effective lighting system will demand attention, influence the mood and set the scene for your presentation or service.

---
---
View the Church Interiors catalog below for additional information and pictures on the products and services we offer.
---
Learn more about the Lifeway One Source program. View Catalog
Get updates and deals with the One Source Church Direct email newsletter. Sign Up
Have questions? Call us at 800.622.8610.