Item#: 005788122
Happiness - Video Session 1 (Buy)
Frequently bought together
This item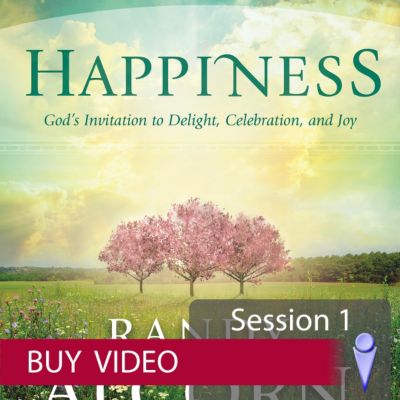 Happiness - Video Session 1 (Buy)
About this Item
Overview
Happiness: God's Invitation to Delight, Celebration, and Joy – Individual Use Video (Buy) (for individual viewing) by Randy Alcorn. All 6 of these theologically rich and inspiring video sessions — captured near the author's home in Portland, OR — are available for purchase by individuals as downloadable sessions. In Happiness, noted theologian and author Randy Alcorn dispels centuries of misconceptions about happiness and provides indisputable proof that God not only wants us to be happy but also commands it. This is the most definitive study on the subject of happiness to date and a paradigm-shifting wake-up call for the church and Christians everywhere. These video sessions are most effective when used with the Happiness Bible study book. Download these sessions individually or as a bundle for personal use or for times you are unable to attend the group Bible study.

Session 1: Happiness vs. Joy [19:46]
Happiness author Randy Alcorn examines the misconception that happiness is different from and inferior to the biblical concept of joy. On the contrary, the Bible equates the two terms and teaches believers to be happy, finding our gladness in God. Our happiness is dependent on Christ—who He is, His faithfulness, what He's done for us, and what He promises us for all eternity.


Session 2: Hardwired for Happiness [15:30]
Happiness author Randy Alcorn teaches that God designs all people to be happy. The question is whether we'll seek happiness in Him or in lesser, temporal pleasures. Happiness and holiness aren't opposing pursuits. If we understand what true holiness is, we find that it's fully compatible with our happiness. Only God offers happiness that satisfies the deepest longings of our souls.


Session 3: The Happiness of God [17:56]
Some people picture God as a cranky old man who wants people to be miserable. Happiness author Randy Alcorn says nothing could be further from the truth. God is happy by nature and brings us into a relationship with Him so that we can enjoy His happiness. We can rejoice in all the blessings our happy God bestows on us. And in eternity we'll be happy and delighted because Christ overflows with happiness and delight.


Session 4: Happiness and Idolatry [13:15]
Happiness author Randy Alcorn explains that because we all seek happiness, we tend to idolize whatever we think will bring us the most happiness. We can fully enjoy the gifts God has given us only when we acknowledge and worship Him as the Giver. When we chase an idol, we become miserable, enslaved to the thing God intended as a gift. But when we see the fulfillment of a desire as a gift and gratefully enjoy it for God's glory, we find satisfying happiness. We avoid idolatry by taking the most pleasure in the one true God.


Session 5: Happiness and Holiness [10:32]
Happiness author Randy Alcorn once taught that God calls us to holiness but not to happiness. Now he recognizes that he was teaching a false dichotomy. God calls us to both happiness and holiness, and both are woven into the gospel. If we understand that God is our central happiness, then to pursue true, lasting happiness is to pursue Him. Indeed, holiness is what secures our happiness. When we follow God's plan for holiness, we'll be happy.


Session 6: The Happiness of Heaven [13:20]
Too many people see heaven as a place where disembodied spirits aimlessly drift without consciousness or purpose. Happiness author Randy Alcorn clarifies that we'll have physical bodies for exploring, playing, learning, making friends, working, and serving as we reign with God on a resurrected earth. Life will be the way God always intended as He returns us to what He designed us to be: human beings living happy, fulfilled lives, eternally delighting in the presence of the God who redeemed us.
Specifications
Age Minimum

18

Language

English

Medium Format

Video Download

Product Group

Bible Study

Product Type

Leader Kit

Publication Date

2016-01-05

Publisher

Lifeway Christian Resources

Sessions

6

UPC

634337696546