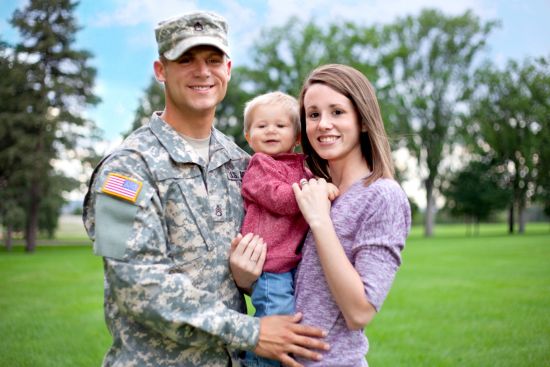 They look like a typical family in your church. Mom holds onto a teetering toddler as she catches up with friends and Dad hands a dollar bill to an older child to stick in the offering plate during Sunday school.
But what can't always be seen are the challenges this family deals with on an ongoing basis and the fears, worries and uncertainties they often face.
They are a military family. The unseen weight of war and separation are never too far behind. Whether or not you know everything about the military, you and your church can still serve these types of families. Here are a few ways to get started.
1. Develop a mission for your church's military ministry.
What can your church do to support and minister to military families?
First, gain an understanding of who is in your church. Are you in a military town or near an active military installation? If not, is there a Reserve or National Guard unit in your area? What about in your church?
Find out by including a short survey in your Sunday morning bulletins or weekly newsletter and poll your church members to learn what types of families are in your church—you may have active Guard or Reserve families including service members, spouses and children, currently going through deployments. Or at home you, may have more retired military or parents and other relatives (brothers, sisters, aunts, uncles) of active military.
Knowing the types of military families in your church and community will help you set a solid foundation as you work toward implementing a vision and a purpose for your military ministry.
2. Decide how you can help based on the needs you discover.
As a church, commit to supporting military families and develop a plan of action based on the needs you discover in your survey.
If you have active military families in your church, consider starting a specific small group just for them that focuses on the issues they deal with: deployment, struggles and challenges in the marriage relationship, post-deployment, parenting issues.
Limit these groups to only military members or spouses. While some military spouses, for instance, may enjoy being part of a Bible study that includes a wide mix of women, they will feel most comfortable opening up and sharing about the challenges of military life if they are in a small group of other military wives who share and empathize in their experiences. Keep in mind, too, of the growing number of husbands whose wives serve in the military who also need support.
3. Determine practical ways to help.
Military families need prayer but they also need help.
Deployments are an obvious case where church members can step in and show God's love by being the hands and feet of Jesus. This may take the form of a Sunday school class or small group adopting a military family and helping with childcare and the occasional meal, or a church men's group offering free handyman services for military spouses who have car trouble or plumbing problems.
Don't assume that once a deployment is over, a military family no longer needs help. Once the homecoming banners are put away, it can take six months to a year for a military couple, or a military family, to find a new sense of normalcy after being separated for so long.
Churches can help with this transition by offering weekly date nights where the kids can come for an activity and parents have the night free to themselves. Consider offering finance or marriage classes, an important way of getting a military couple back on the same page and thinking about their future together.
4. Ask what other churches are doing.
There are some wonderful ways churches throughout the United States are offering spiritual and practical support to military families.
Scotts Hill Baptist Church in Wilmington, N.C., holds Bible studies for military wives and an annual conference for military families that includes guest speakers and free giveaways that resemble the size and scope of Oprah's "Favorite Things." They also provide free spiritual resources for military families on a regular basis and perform outreach and mission-type activities when a need is recognized. Practical help with home or vehicle repairs and babysitting is also provided.
The Rock Church in San Diego has regular military programs for both men and women and work hard to meet the needs of military spouses in an area where there are frequent separations and deployments that occur and service members are away.
Pikes Peak Christian Church in Colorado Springs has a well-established military ministry that provides Bible studies for both men and women, and two annual luncheons—one for Veterans Appreciation in November, and one for Military Spouse Appreciation in May. When a family is going through a deployment, they give away customized deployment kits to the deploying service member, the spouse staying at home as well as the children, and they offer quarterly Parent's Night Out evenings, support groups for spouses of deployed military, and free resources such as Bibles and other materials.
Friends Community Church in Fairbanks, Ala., holds a military appreciation service before a local brigade deploys and passes out cards to active duty spouses with a contact number for a volunteer ministry the church provides. The ministry offers help with moving furniture, or minor home or car repairs, childcare and support in other ways. As one military spouse who recommended this church said, "The service itself was moving, but their support of the families was incredible."
5. Start somewhere.
There are large and small ways your church and individuals within your church can offer support to military families. Ask God to give you direction in what He might have you and your church do. The greatest impact you can have is showing love in Jesus' name to a military family.
Learn About A Bible Study for Military Wives
Tour Of Duty is an excellent starting point for military wives to get connected with others in the military community who share this common thread. This study helps wives deal with the emotional twists and turns they may not be ready to face. It points them to God, and participants will learn how to lean on God and not carry so much of the weight that is so often placed on them.
Military families like to be prepared—they plan, they strategize, they organize. But whether they're active, National Guard, or Reserve, when deployment comes, all the planning in the world can still fail when it comes to their hearts.