Let Hope Inby Pete Wilson
So many of us are bound, held prisoner by decisions and events from the past. Imagine complete freedom—a freedom only secured by the hope extended to us in Jesus. Sure, we've all made mistakes. Plenty, in fact. It's part of life. And even today, none of us is immune from feelings of hopelessness. But the Bible tells us, and this study reminds us, that we can rejoice when we run into problems because they help us endure and give us strength, character, and hope. We can move beyond regrets and shame. There is a sure hope. Let it in. Ideal for small groups.
Watch Intro Video
View a Sample
Promotional Items
Start a Study
About the Author

Pete Wilson
Pete Wilson is the founding and senior pastor of Cross Point Church, Nashville, TN.
Let Hope In- The Book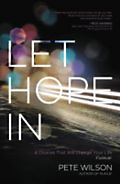 Let Hope In is a new look at the power of healing through hope and four choices that have the potential to change your life forever. With Wilson's telltale cadence and candor, Let Hope In explores accounts of seemingly hopeless moments in the Bible illustrating God's ultimate plan for healing by letting hope fill the dark places of your past. Make today the day you choose to change your future and embrace who God created you to be, simply by making the choice to let hope in.
View All Bible Studies for Life Small Group Studies
Perfect for a Church Campaign
You'll find helpful tools in each title's Leader Kit.
Promotional video, presentation slides, banner ads, and posters
Video: One for each session featuring the author providing biblical insight
Leader guide: Expands on the commentary you get in the Bible Study Book
PLUS- Free online sermon outlines: Two sets for each session. One uses the same Scripture passage as the session. The other expands on the theme but uses different Scripture passages.

App for Bible Study Book
Gives you all the content of the Bible Study‒ plus a whole lot more‒right at your fingertips. Available in the iTunes or Google Play App Store; search "Bible Studies for Life." View in iTunes View in Google Play
$6.99

In Stock

$19.99

In Stock