Narrow Results
Current Offers
Product Group
Age Group
Price Range
Language
Publisher

The Two-Minute Drill for Parents: Molding Your Son into a Man
Because parents ultimately discover that their daily influence over their son is shortening, they wonder if he is ready for manhood. This study will help them prepare their son to be the man God has created him to be. Each week contains hands-on exercises that provide parents with an opportunity to further integrate the study's principles into their families. (8 sessions)
See Sample
Promotional Tools
Member Book includes:
Group Discussion guide
Leader guide
8 weeks of Bible study
Hands-on exercises
$9.99
Add to Cart
Leader Kit includes:
One Member Book
Two DVDs with promo video and eight 10-minute teaching sessions by the author
Interviews staff and alum from Big Oak Ranch
$69.99
Add to Cart
Also Available: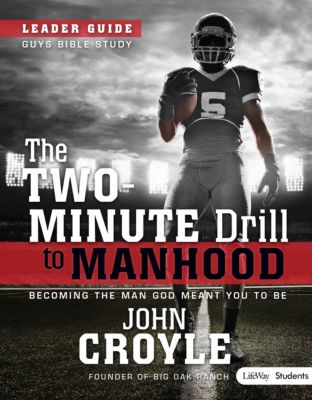 The Two-Minute Drill to Manhood
Guys Bible Study
About the Author:
John Croyle was an all-American defensive end at the University of Alabama during head coach Paul "Bear" Bryant's legendary tenure. Faced with the decision to play professional football or to start a home for abused and neglected children, John established Big Oak Ranch in 1974. Today the outreach also includes a girls ranch and a Christian school. John has fathered more than 1800 children through Big Oak as well as his biological children—son Brodie, a former NFL quarterback, and daughter Reagan, a former D1 basketball player at the University of Alabama.