Help Students Know God, Own Their Faith, and Make Their Faith Known
KNOWN is a student Bible study with a holistic approach to spiritual development helping students KNOW God, OWN their faith, and make their faith KNOWN. Students will study topics from spiritual development areas such as lordship, disciplines, character, discernment, relationships, and influence. Great for Sunday school use with your students.
View current Scope & Sequence of studies.
LEADER GUIDES & BUNDLES - KNOWN (Spring 2016)

STUDENT BOOKS & DEVOTIONALS - KNOWN (Spring 2016)

---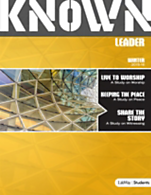 KNOWN Winter 2016 Leader Resources
What You Get With KNOWN
Customizable teaching plans with options based on specific demographics
Interactive student pages
Student devotions that reinforce the session truths
Midweek resources that include teaching outline, PowerPoint presentation, worship and video ideas
Innovative graphic design
Balanced, biblical approach to a student's spiritual development
Comprehensive approach to Bible study supported by midweek resources that reinforce the truths of the main sessions
Choice of delivery systems - print or digital
Make yourself known. Drop us a line. Send us your questions and comments about KNOWN.
Product Manager
Mike Wakefield
Mike.Wakefield@lifeway.com
615-251-2853
Order Related Questions
Contact Customer Service
800-458-2772
Narrow Results
Current Offers
Product Group
Age Group
Price Range
Quarter
Language
Publisher
KNOWN Insights & Options Free Downloads

Free downloads to support the KNOWN Spring 2016 student Bible study curriculum. All files provided in rich-text format (RTF) for adapting and incorporating them into your weekly KNOWN plans.
Insights: Biblical commentary and application material
Options: Targeted creative teaching ideas
Bonus Session: A Study on Honor

Get all Insights, Options, and Bonus in one ZIP file HERE.
Return to KNOWN Home Page