Help Students Know God, Own Their Faith, and Make Their Faith Known
KNOWN is a student Bible study with a holistic approach to spiritual development helping students KNOW God, OWN their faith, and make their faith KNOWN. Students will study topics from spiritual development areas such as lordship, disciplines, character, discernment, relationships, and influence. Great for Sunday school use with your students.
---
ATTENTION
KNOWN will be transitioning this fall. Please watch the video to the right, or read complete details below.
---
LEADER GUIDES & BUNDLES - KNOWN (Summer 2016)

STUDENT BOOKS & DEVOTIONALS - KNOWN (Summer 2016)

---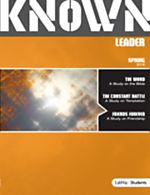 KNOWN Spring 2016 Leader Resources
---
When we first developed KNOWN in 2005, we had a vision for reaching churches with relevant Bible studies that helped students understand and pursue Jesus in their culture and context. Until KNOWN, there really wasn't another Bible study focused on accomplishing this task. The results were amazing! God used KNOWN to impact thousands of churches, helping students learn to live out their faith. As we received feedback from leaders about KNOWN, we were able to incorporate many elements into our other studies. We thank God for all that He has done through KNOWN as we prepare for future LifeWay Students materials.
Since the conclusion of KNOWN's original 6 year scope and sequence we have been evaluating KNOWN on a yearly basis. Through this evaluation, we decided that the best step forward is to bring KNOWN curriculum to a conclusion with the summer 2016 issue. This has not been an easy decision and was made with much prayer, consideration, and input from local church student pastors. Based upon church and ministry needs, the burden and responsibility to be the best stewards possible, and the availability of three other outstanding ongoing Bible studies for students, we have decided that this year is the best time to conclude KNOWN. Although we share the sadness that some of you may feel with the studies ending, we've also heard from many of you that are excited and encouraged by the options we have to offer you and your and leaders to effectively minister to their students.
It is our hope that as KNOWN ends, you will consider using Bible Studies for Life: Students as part of your wise discipleship plan for students. The great news is that there are several elements within the new Bible Studies for Life that will be familiar to you. I would like to spend a couple of minutes with you as a KNOWN user to walk through these very things in order to help you transition well to the new Bible Studies for Life.
The great legacy that KNOWN has left with its users, is the ministry strategy within it's name. Teaching students to know their faith, own their faith, and make their faith known. The great thing about this strategy is that it will fit within any of our ongoing lines of curriculum as they all seek to teach students God's Word, show them them how to apply it personally, and live out their faith publicly.
Bible Studies for Life: Students pairs especially well with the KNOWN strategy by using a three fold method for teaching students. Engage, impart, and impact. Teaching students by engaging them with compelling visuals, stories, and options to engage students through atmosphere, action, and media. Bible Studies for Life: Students uses a wise discipleship plan based on the 8 attributes of authentic discipleship with life as its starting point for studying God's Word.
The new Bible Studies for Life: Students study plan also contains many components that are familiar to you. Each session highlights a cultural action point that brings the truth of God's Word to bear on cultural elements that students live in everyday from movies, to products and popular stories. Focusing heavily on discussion, Bible Studies for Life strives to bring students together to learn God's Word in Christian community by creating continual opportunities for Biblical discussion and interaction. Every session ends with an opportunity for each student to apply God's Word to their life personally, communally, and culturally.
To help with this transition, we want to invite you to download four free sessions of Bible Studies for Life: Students preview materials.
If you have any questions about Bible Studies for Life, please feel free to contact Ian Dunaway, editor of Bible Studies for Life: Students at ian.dunaway@lifeway.com .
Narrow Results
Type
Age Group
Price Range
Setting
Medium Format
Quarter
Frequency
Publisher
KNOWN Insights & Options Free Downloads

Free downloads to support the KNOWN Summer 2016 student Bible study curriculum. All files provided in rich-text format (RTF) for adapting and incorporating them into your weekly KNOWN plans.
Insights: Biblical commentary and application material
Options: Targeted creative teaching ideas
Bonus Session: A Study on God's Will

Get all Insights, Options, and Bonus in one ZIP file HERE.
Return to KNOWN Home Page