Tracts
Equip your congregation with these tools that will assist them in sharing their faith.
Narrow Results
Subtype
Age Group
Occasion
Setting
Language
Publisher
Specialty Imprints Custom Bags

Custom printed bags are a great way to promote your church location, service times, etc. when leaving informational pieces with those you've visited. Standard Production time is 2-3 weeks. For more information or a quote, click here or call 800-443-8032.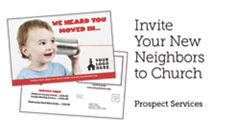 LifeWay Prospect Services provides the mailing list, customized postcards with the families' names and addresses, and mail them for you. Available at LifeWay.com/prospectservices or by calling 800-464-2799.