What Happens When Women Say Yes to God: Six Motivating Sessions to Change Your Life Forever
TerKeurst, Lysa (Author)
Description
Lysa TerKeurst invites women to experience the remarkable joy of saying a oeyesa to God. In six powerful 30-minute sessions based on the popular book (more than 55,000 copies sold), Lysa inspires women to delight in the great path God has for them as they explore:
The Power of One: Why we celebrate womena (TM)s stories
The Five Questions: How to recognize Goda (TM)s leading
Learning to Live Open Handed: How to receive Goda (TM)s blessings
Simple Acts of Obedience Change the World: Ways to have transforming faith
I Want to Say Yes, But Ia (TM)m Afraid: How to release excuses
So What Does God Want Me to Do?: How to live in Goda (TM)s will
Excellent for individuals or groups, this video series illuminates Goda (TM)s daily invitations to say yes! A separate workbook is available to help women apply the message on a personal level.
Includes helpful leadera (TM)s guide.

Available Formats
$12.99

$13.99

DVD, Non-Fiction

$29.99

$12.99

$14.99
Bulk Pricing
Buy 10–49 for $26.99 each
Buy 50–99 for $25.49 each
Buy 100–up for $23.99 each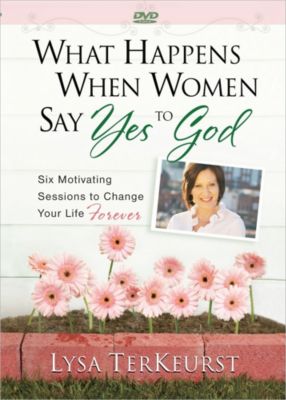 What Happens When Women Say Yes to God: Six Motivating Sessions to Change Your Life Forever
Specifications
Age Max

0

Age Min

0

Height

0.60

Length

7.50

Width

5.30

File Size

0

Genre

Inspirational

Language

English

Medium Format

DVD

Pages

1

Product Group

Books

Type

Non-Fiction

Publication Date

2011-04-01

Publisher

Harvest House Publishers

Item Number

005417774

ISBN10

0736928936

ISBN13

9780736928939

UPC

9780736928939

Contributors

TerKeurst, Lysa (Author)