VBS 2013: Colossal Coaster World Super Sampler
Description
This item is backordered, but is available at your local LifeWay Christian Store, or by calling 1-800-458-2772.
Planning VBS is easy with the Colossal Coaster World Super Sampler. Order one and you'll have samples of curriculum, promotional items, music, and easy step-by-step instructions to help as you promote, plan, and host your VBS. Includes one Leader and Learner Guide for each age group, babies to preteens, plus one Adult VBS Learner Guide and one Youth Learner Guide. You'll also find planning resources, promotional helps, music, and more to help you plan. In addition to all that you'll find in the Sampler, the Super Sampler contains a Worship Rally Pack, preschool rotation resources, numerous additional promotional items and other accessories—including decorations. The Super Sampler is a must-have for getting the most out of your VBS planning.
Super Sampler contains:
Planning Resources:
Decorating Made Easy with Clip Art CD-ROM
VBS 2013 Administrative Guide for Directors
Curriculum:
One Leader Guide for all age groups—babies through preteens
One Kid's Activity Pak: Babies–2s
One Kid's Activity Pak: 3s–Kindergarten
Grades 1–2 Daily Park Guide
Grades 3–4 Daily Park Guide
VBX 2013 Preteen Daily Park Guide
Youth Learner Guide (VBS 2013 Student Book)
Adult Learner Guide
Preschool Rotation Resources:
3s–Kindergarten Rotation Pack
Rotation Resources:
Music Rotation Leader Guide with DVD
Missions Rotation Leader Guide with DVD
Crafts Rotation Leader Guide
Recreation Rotation Leader Cards
Snack Rotation Recipe Cards
Witnessing Helps:
New Testament with Psalms and Proverbs (HCSB®)
One VBS 2013 Family Park Guide
One ABC Memory Card™
One ABC Wristband
Worship Rally & Music:
VBS 2013 Worship Rally Pack
VBS 2013 Music Book
VBS 2013 Music Rotation & Musical CD
One Music for Kids CD
One Music for Preschoolers CD
Promotional Items:
VBS 2013 Promotional Poster
One VBS 2013 Door Hanger
One VBS 2013 Invitation Postcard
One VBS 2013 Follow-up Postcard
One sheet VBS 2013 Logo Stickers
One VBS 2013 Window Sign
VBS 2013 Catalog
VBS 2013 Promotional DVD
Accessories & Decorations:
VBS 2013 Decoration Punch-Outs
VBS 2013 Floor Prints
VBS 2013 String Flags
One VBS 2013 Inflatable Coaster Car
20 VBS 2013 Name Tags with Lanyards
Gifts & Souvenirs:
One VBS 2013 Picture Frame
One VBS 2013 Name Tag with Lanyard
One VBS 2013 Treat Bag
One set of six VBS 2013 Collectible Daily Buttons
VBS 2013 Visor
Five VBS 2013 Screamer Balloons
One VBS 2013 Head Bopper
One VBS 2013 Viewer Key Chain
One VBS 2013 Notepad
VBS 2013 16-inch Balloons
Sample Craft Packs:
One Colossal Coaster Card
One ABC Tilt-a-Whirl Top
One Ferris Wheel Puzzle
One Ticket Frame
One Fear Face Bookmark
One Storm-tossed Ship Paperweight
One Fireworks Kazoo
One Colossal Camera Card
One Bible Verse Ferris Wheel
WARNING: Choking Hazard—small parts. Not for children under 3 years.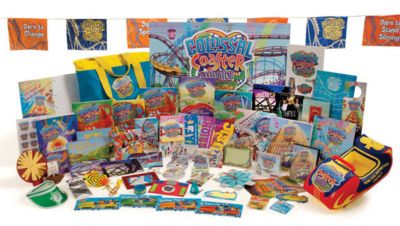 VBS 2013: Colossal Coaster World Super Sampler
Specifications
Height

6.70

Length

17.20

Width

14.20

Language

English

Product Group

Bible Study

Type

Sampler

Publication Date

2012-12-01

Publisher

LifeWay Christian Resources

Item Number

005487652

UPC

634337253305