Unspeakable Joy Accomp. CD (split)
Goss, Lari (Arranged by) , Cloninger, Claire (Narrated by) , Goss, Lari (Orchestrated by)
Description
In a world whose headlines scream of despair, there is good news of great joy! This powerful opus presents a dynamic blend of choruses, dramatic songs, tender ballads, and beautiful narration as it recounts the stable and the star, the angels and the shepherds, and the baby on a bed of straw. Incorporating the works of many gifted songwriters such as Bill and Gloria Gaither, this simple Christmas story is delivered with power that amazes us with its mercy and fills us with unspeakable joy! 52 minutes. Medium. SATB.
Bulk Pricing
Buy 10–49 for $72.00 each
Buy 50–99 for $67.50 each
Buy 100–up for $63.00 each
Please call 1-800-368-7421 to order.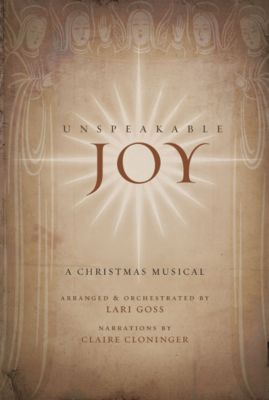 Unspeakable Joy Accomp. CD (split)
Specifications
Height

0.40

Length

5.60

Width

4.90

Language

English

Medium Format

CD

Performance Type

Solo

Product Group

Music for Worship

Type

Accompaniment Track

Publisher

Word

Item Number

005104385

UPC

080689800122

Contributors

Goss, Lari (Arranged by) , Cloninger, Claire (Narrated by) , Goss, Lari (Orchestrated by)