The Unshakable Truth? DVD Experience: 12 Powerful Sessions on the Essentials of a Relevant Faith
McDowell, Josh (Author) , McDowell, Sean (Author)
Description
Dennis Rainey says of Unshakable Truth book, Josh and Sean McDowell have a clear understanding of what this generation needs, and they communicate that truth in a logical and compelling way.
This dynamic video presentation distills the book s central points to help Christians know what they believe, why they believe it, how it s relevant to life, and how they can pass it on to the next generation.
Uniquely, Josh and Sean present apologetics relationally, showing how right believing affects both believers and people they encounter. In twelve 15-minute sessions they help viewers
understand God s grand plan of creation, incarnation, and re-creation
discover the 12 truth statements of Scripture and why they re credible
experience Christianity s authenticity through practical examples and real-life stories
"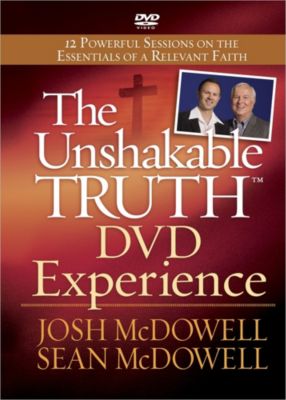 The Unshakable Truth? DVD Experience: 12 Powerful Sessions on the Essentials of a Relevant Faith
Specifications
Age Max

0

Age Min

0

Height

0.60

Length

7.50

Width

5.40

File Size

0

Language

English

Medium Format

DVD

Pages

0

Product Group

Bible Study

Publication Date

2011-01-01

Publisher

Harvest House Publishers

Item Number

005356049

ISBN10

0736930485

ISBN13

9780736930482

Contributors

McDowell, Josh (Author) , McDowell, Sean (Author)