The Risen Savior Accompaniment CD (Split)
Adams, Craig (Compiled by) , Crumpton, Johnathan (Compiled by)
Description
The accompaniment CD for The Risen Savior. Celebrate Easter with this brand new Simple Series Easter mini-musical. From cover to cover, this passionate Easter experience will cause the lives of your choir and congregation to be forever changed as they examine their lives in the light of Christ's cross of sacrifice and victorious resurrection! Easy. Unison/2-part. 20 Minutes.
Bulk Pricing
Buy 10–49 for $44.00 each
Buy 50–99 for $41.25 each
Buy 100–up for $38.50 each
Please call 1-800-368-7421 to order.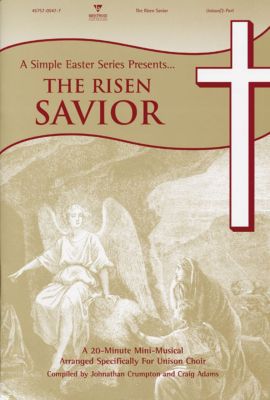 The Risen Savior Accompaniment CD (Split)
Specifications
Height

0.40

Length

5.60

Width

4.90

Language

English

Medium Format

CD

Performance Type

Solo

Product Group

Music for Worship

Type

Accompaniment Track

Publication Date

2004-12-01

Publisher

Provident Music Distribution

Running Time

20:00

Item Number

001266400

ISBN10

0999924281

ISBN13

9780999924280

UPC

645757094737

Contributors

Adams, Craig (Compiled by) , Crumpton, Johnathan (Compiled by)