The Power of the Cross - Choral Book
Parks, Marty (Arranged by) , Parks, Marty (As Recorded by) , Parks (Composer)
Description
The Power of the Cross is a compelling praise & worship experience for Easter... and beyond! The intrigue of the passion story is coupled with high energy celebration of its relevance for believers today.
Designed for choirs with ten to twenty members, even larger choirs with limited rehearsal time will find it useful. Any choir can present these moderately easy arrangements of popular artist songs and updated classic hymns. Multiple opportunities for your soloists, dramatic roles for two readers, all woven together by a worship leader make The Power of the Cross a stunning and unforgettable choice for a choir-led worship experience celebrating God's redemptive plan for all the earth.
All this in a distinctive praise & worship style for your choir and congregation this Easter... and beyond!
Bulk Pricing
Buy 10–49 for $5.59 each
Buy 50–99 for $5.24 each
Buy 100–up for $4.89 each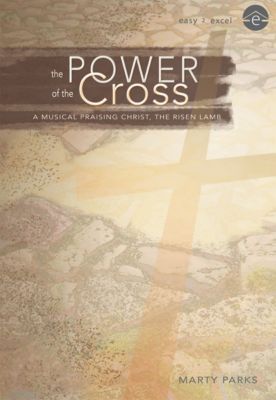 The Power of the Cross - Choral Book
Specifications
Age Max

0

Age Min

0

Binding

Paperback

Height

0.20

Length

9.70

Width

6.60

Genre

Inspirational

Language

English

Medium Format

Print

Performance Type

Choir

Product Group

Music for Worship

Type

Choral Book

Publication Date

2007-09-03

Publisher

Lillenas Publishing Company

Difficulty

Moderately Easy

Voicing

SATB

Item Number

005129667

ISBN10

0834175932

ISBN13

9780834175938

Contributors

Parks, Marty (Arranged by) , Parks, Marty (As Recorded by) , Parks (Composer)