The Night Before Christmas Choral Book
Smith, J. Daniel (Arranged by) , Smith (Artist) , LaBar, Twila (Created by) ...View All Contributors
Description
'Twas the night before Christmas ? and heaven must have been abuzz with excitement as they watched an unexpecting world go about their normal routines, knowing that tomorrow morning everything would change. Joel Lindsey and Twila LaBar bring the Christmas story to life through this stirring new musical. Dynamically arranged and orchestrated by Dove Award-winning producer J. Daniel Smith, it retells the events leading up to Christ's birth. 45 minutes.
Bulk Pricing
Buy 10–49 for $7.19 each
Buy 50–99 for $6.74 each
Buy 100–up for $6.29 each
Please call 1-800-368-7421 to order.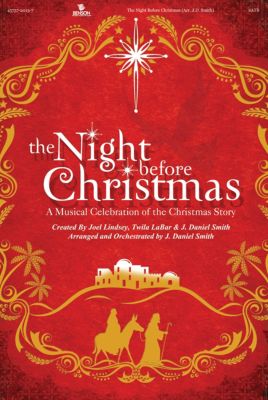 The Night Before Christmas Choral Book
Specifications
Binding

Paperback

Height

0.26

Length

10.20

Width

7.90

Language

English

Medium Format

Print

Pages

106

Product Group

Music for Worship

Type

Choral Book

Publisher

Benson Music Group (Choral)

Item Number

005465515

UPC

645757201371

Contributors

Smith, J. Daniel (Arranged by) , Smith (Artist) , LaBar, Twila (Created by) , Lindsey, Joel (Created by) , Smith, J. Daniel (Created by)