The Next Noel Choral Book
Allen, Dennis (Arranged by) , Allen, Nan (Arranged by)
Description
The choral book for The Next Noel. This musical works wonderfully as a brand new production or can be used as a sequel to "The First Leon". Leon, having matured from the simple state of understudy is directing the Christmas program, but the closer the cast gets to opening the night, the more wildly overstated and ridiculous Leon's ideas become and more importantly, the more the program becomes all about Leon's initiative instead of God's miracle at Christmas. When a cast member gets sick and Leon is forced to play the part of the lowly sheep in the stall, Leon is defiant about having to play such an insignificant role-especially having to kneel. Then, he suddenly realizes that humble worship is exactly what our response should be at Christmas and all lifelong. Unison/2-part. Easy. 30 Minutes.
Bulk Pricing
Buy 10–49 for $6.36 each
Buy 50–99 for $5.96 each
Buy 100–up for $5.57 each
Please call 1-800-368-7421 to order.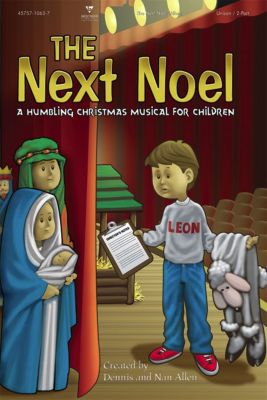 The Next Noel Choral Book
Specifications
Binding

Paperback

Height

0.20

Length

10.25

Width

6.85

Language

English

Medium Format

Print

Product Group

Music for Worship

Type

Songbook

Publication Date

2005-05-17

Publisher

Provident Music Distribution

Difficulty

Easy

Item Number

001284717

ISBN10

9999906612

UPC

645757106379

Contributors

Allen, Dennis (Arranged by) , Allen, Nan (Arranged by)