The Greatest Story of All Choral Book
Parks, Marty (Author) , Parks, Marty (Created by)
Description
The Greatest Story of All recounts the life-altering, indeed world-changing, birth of our Lord and Savior, Jesus Christ with a tapestry of seasonal music that will take your congregation from a humble Judean stable to the presence of Bethlehem's angels. The work can be utilized as a cover-to-cover program with a single narrator or can serve as a collection of individual anthems that can be used throughout the Advent season. Still the greatest story ever told, experience the birth of Jesus anew this year. 40 minutes. Easy. SATB.
Bulk Pricing
Buy 10–49 for $7.16 each
Buy 50–99 for $6.71 each
Buy 100–up for $6.27 each
Please call 1-800-368-7421 to order.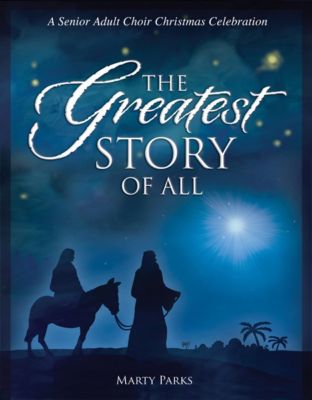 The Greatest Story of All Choral Book
Specifications
Binding

Paperback

Height

0.25

Length

11.00

Width

8.50

Language

English

Medium Format

Print

Pages

88

Product Group

Music for Worship

Type

Songbook

Publisher

Word

Item Number

005529305

UPC

080689462177

Contributors

Parks, Marty (Author) , Parks, Marty (Created by)