The Christmas Shoe Tree Posters (12/Pack)
Slaughter, Jeff (Created by)
Description
The Christmas Shoe Tree is a Christmas musical for kids that includes a Soles4Souls (a charity that distributes shoes to individuals who need them) challenge that will engage your children's choir, your church, and your entire community in a life-changing effort to impact the world one shoe at a time. Through Scripture, songs, and a heartwarming story, your children's choir will not only share the good news of Christmas, but in an extension of the musical itself, everyone will be challenged to show God's love in action by collecting shoes to be given to those in need all over the world. 40 minutes. Easy. Unison/Two-part.
Bulk Pricing
Buy 10–49 for $14.39 each
Buy 50–99 for $13.49 each
Buy 100–up for $12.59 each
Please call 1-800-368-7421 to order.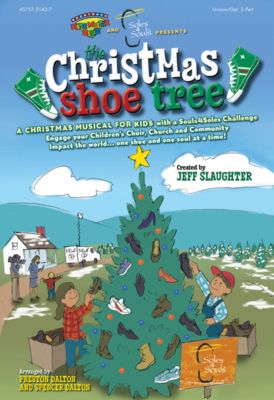 The Christmas Shoe Tree Posters (12/Pack)
Specifications
Language

English

Product Group

Music for Worship

Publisher

Brentwood-Benson

Item Number

005529649

UPC

645757214296

Contributors

Slaughter, Jeff (Created by)