Start it Up! CD Preview Pack
Gardner/Phillips (Composer)
Description
The CD preview pack for Start It Up! The highly-anticipated premiere collection from the highly acclaimed Christ Church Choir is finally here! Featuring an eclectic variety of musical styles for every generation including: Inspirational, Praise and Worship, Black Gospel, R&B, and more. Moderate. SATB. 80 Minutes.
Bulk Pricing
Buy 10–49 for $9.60 each
Buy 50–99 for $9.00 each
Buy 100–up for $8.40 each
Please call 1-800-368-7421 to order.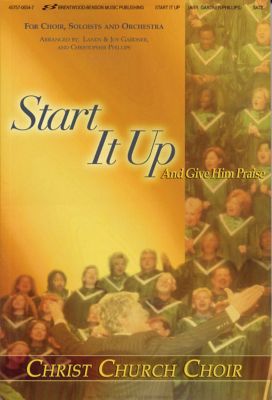 Start it Up! CD Preview Pack
Specifications
Height

0.40

Length

11.90

Width

7.90

Product Group

Music for Worship

Type

Promo Pack

Publication Date

2004-12-01

Publisher

Provident Music Distribution

Item Number

001266407

ISBN10

0999925504

ISBN13

9780999925508

UPC

645757065416

Contributors

Gardner/Phillips (Composer)