Sing Joy Choral Book
Davis, Geron (Arranged by) , Knight, Bradley (Arranged by) , Davis (Composer) ...View All Contributors
Description
The choral book for Sing Joy. This powerful new Christmas project delivers incredible new songs by Geron Davis. Let the good news be seen and heard-Jesus is born! Sing love?sing hope?Sing Joy! SATB. Moderate. 50 Minutes.
Bulk Pricing
Buy 10–49 for $7.16 each
Buy 50–99 for $6.71 each
Buy 100–up for $6.27 each
Please call 1-800-368-7421 to order.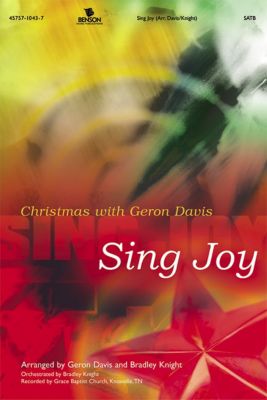 Sing Joy Choral Book
Specifications
Binding

Paperback

Height

0.50

Length

10.30

Width

6.90

Genre

Black Gospel

Language

English

Medium Format

Print

Product Group

Music for Worship

Type

Songbook

Publication Date

2005-05-17

Publisher

Provident Music Distribution

Difficulty

Moderate

Item Number

001284489

ISBN10

9999906583

UPC

645757104375

Contributors

Davis, Geron (Arranged by) , Knight, Bradley (Arranged by) , Davis (Composer) , Knight, Bradley (Orchestrated by)