Shine on Us Choral Book
Sterling, Robert (Arranged by) , Sterling (Composer) , Guthrie, David (Created by) ...View All Contributors
Description
The choral book for Shine on Us. In the dark night sky of Bethlehem a star blazed brightly, a radiant beacon of hope and promise guiding the shepherds to the newborn king. To people walking in darkness, a great light had dawned. Each year, as the light of Christmas are displayed, we can be reminded that Jesus Christ is the true Light of the world. Shine on Us will ignite the spark of hope and redemption that shines in our hearts each Christmas. SATB. Medium.
Bulk Pricing
Buy 10–49 for $7.16 each
Buy 50–99 for $6.71 each
Buy 100–up for $6.27 each
Please call 1-800-368-7421 to order.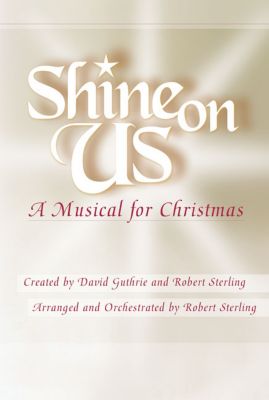 Shine on Us Choral Book
Specifications
Binding

Paperback

Height

0.30

Length

10.30

Width

6.90

Language

English

Medium Format

Print

Pages

120

Product Group

Music for Worship

Type

Songbook

Publication Date

2005-05-24

Publisher

WORD Entertainment

Item Number

001275099

ISBN10

9999905893

UPC

080689395178

Contributors

Sterling, Robert (Arranged by) , Sterling (Composer) , Guthrie, David (Created by) , Sterling, Robert (Created by)