Sex Is Not the Problem (Lust Is) - A Study Guide for Women
Harris, Joshua (Author) , Harris, Shannon (Author) , Smith, Brian (Contribution by) ...View All Contributors
Description
Celebrate Purity
Overcoming lust is a process that requires diligent focus and accountability from others, and these in-depth guides help establish both. They re designed for a variety of settings, from one-on-one accountability partnerships to Sunday school classes. Sex Is Not the Problem (Lust Is) made the statement that lust is a human problem (not just a guy problem) and that Jesus can free anyone from its power. Going further, these gender-specific study guides feature questions and discussion starters that directly address the temptations unique to men and women. These resources are a must-have for anyone challenged to defeat lust and celebrate purity in their lives.
Lust Is Not Just a Guy Problem
Based on the bestselling message in Sex Is Not the Problem (Lust Is), Joshua and Shannon Harris offer a companion study guide specifically designed to address the issues women face. For use in a personal or group setting, this in-depth guide is a tool to help you apply the book s principles as you go further on your journey to holiness.
Sex Is Not the Problem (Lust Is) offers help and hope not just for those who are dealing with sexual lust, but for anyone besieged by temptation of any kind.
Nancy Leigh DeMoss
Author, host of the Revive Our Hearts radio program
Includes a Modesty Heart-Check for Girls
Each of the ten small-group sessions includes:
Easy Review: A quick chapter summary makes review simple.
Discussion Questions: Questions that serve as icebreakers, and then lead to deeper discussion and personal application.
Accountability Follow-Up: Questions to help check each other s progress in a truthful and caring setting.
Meditate and Memorize: Key Scriptures that will help women gain victory over lust.
Custom-Tailored Action Plan: Women will be led in a step-by-step formulation of an Action Plan, uniquely tailored to combat their specific battles.
Story Behind the Book
I was preparing a message on lust when I realized that the book I wanted to consult hadn t been written. That book would make it clear that only Jesus Christ can free us from the hopeless treadmill of shame and guilt that so many well-intentioned people end up on. It would instill a love for holiness and a hatred for sin without dragging the reader s imagination through the gutter. And it would be for both men and women, because I ve learned that lust isn t just a guy problem it s a human problem.
Joshua Harris "
Bulk Pricing
Buy 10–49 for $7.19 each
Buy 50–99 for $6.79 each
Buy 100–up for $6.39 each
Buy 100–up for $6.39 each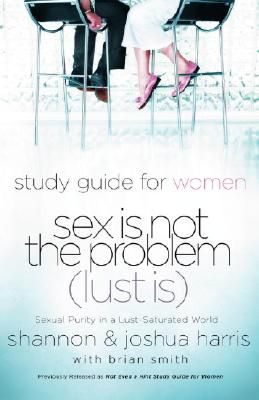 Sex Is Not the Problem (Lust Is) - A Study Guide for Women
Specifications
Age Max

0

Age Min

0

Height

0.29

Length

8.56

Width

5.54

File Size

0

Language

English

Medium Format

Paperback

Pages

85

Product Group

Books

Type

Study Guide

Publication Date

2005-12-01

Publisher

Multnomah Press

Item Number

001294826

ISBN10

1590526090

ISBN13

9781590526095

Contributors

Harris, Joshua (Author) , Harris, Shannon (Author) , Smith, Brian (Contribution by) , Smith, Brian (With)