Ready to Sing Hymns and Gospel Songs, Volume 2 Bass
Mauldin, Russell (Arranged by) , Mauldin, Russell (Other)
Description
Filled with everyone's favorite Sunday hymns and gospel songs, this new collection features a special brand of easy-to-sing, easy-to-learn SATB voicing. With one-rehearsal-sing-ability of this best-selling series, Ready to Sing Hymns and Gospel Songs continues the Ready to Sing tradition with 26 all-time favorite songs blended into 12 dynamic arrangements. 45 minutes.
Bulk Pricing
Buy 10–49 for $4.94 each
Buy 50–99 for $4.67 each
Buy 100–up for $4.39 each
Please call 1-800-368-7421 to order.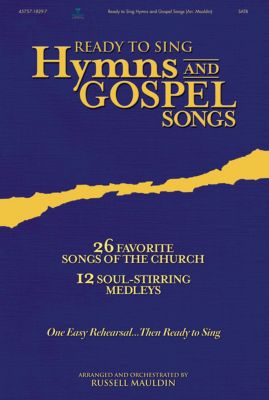 Ready to Sing Hymns and Gospel Songs, Volume 2 Bass
Specifications
Age Max

0

Age Min

0

Height

0.40

Length

4.90

Width

5.60

Language

English

Medium Format

Audio

Performance Type

Solo

Product Group

Music for Worship

Type

Accompaniment Track

Publication Date

2010-11-01

Publisher

Brentwood Music

Item Number

005455152

ISBN13

0645757195373

UPC

0645757195373

Contributors

Mauldin, Russell (Arranged by) , Mauldin, Russell (Other)