Our Last Great Hope: Awakening the Great Commission
Floyd, Ronnie (Author)
Description
Every day we encounter scores of people headed to an eternity without God. What will it take to wake us up to their desperate need for a Savior?

While the earth's time clock ticks away, well-meaning Christians go to church, pay their tithes, and pray for foreign missionaries going through the motions of Christian life as millions face an eternity without God. If heaven is indeed for real, and only those who have put their faith in Christ will be given entrance, shouldn't we be making the most of every opportunity to share the Gospel, the last great hope for all the world?

Join pastor Ronnie Floyd as he challenges readers to face reality and begin a global movement to reach the lost. He says, "God is calling us to an awakening regarding his most urgent command found in Matthew 28:19 to go and make disciples of all nations. This Great Commission is the compelling charge given to us with divine authority by our Commander in Chief, Jesus Christ."

Our Last Great Hope will move us beyond casualand theoretical talk about the Great Commissionand lead us into a Great Awakening.

This book could revolutionize the way we think. . . . Read it and be inspired, changed, and equipped.

Bruce Wilkinson, best-selling author of The Prayer of Jabez

Floyd challenges us to engage the next generation . . . a must-read.

Greg Surratt, lead pastor of Seacoast Church and author of IR-REV-REND

This book inspires me to do extraordinary things through my most ordinary life.Our Last Great Hope should be your fi rst required read.

Leonard Sweet, best-selling author of Jesus Manifesto

Our Last Great Hope pushes us beyond predictability and points us to a deep, intimate knowledge of why we are here.

Ed Young Jr., pastor of Fellowship Church and author of Outrageous, Contagious Joy

I ll be pulling this book off my shelf again and again.

Pete Wilson, author of Plan B and Empty Promises

This book is an energizing wake-up call to today s churches.

Ed Stetzer, director of LifeWay Research

"
Available Formats
Paperback, Non-Fiction

$15.99

$8.99
Bulk Pricing
Buy 10–49 for $14.39 each
Buy 50–99 for $13.59 each
Buy 100–up for $12.79 each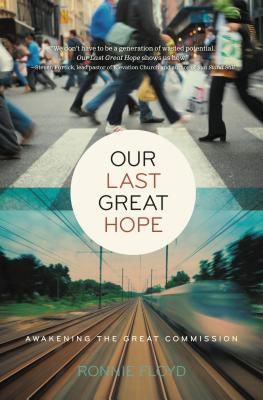 Our Last Great Hope: Awakening the Great Commission
Specifications
Age Max

0

Age Min

0

Height

0.80

Length

8.30

Width

5.50

File Size

0

Language

English

Medium Format

Paperback

Pages

256

Product Group

Books

Type

Non-Fiction

Publication Date

2011-09-01

Publisher

Thomas Nelson

Item Number

005462054

ISBN10

0849947073

ISBN13

9780849947070

UPC

9780849947070

Contributors

Floyd, Ronnie (Author)