Our Flag Was Still There Choral Book
Craig-Claar/Clydesdale (Composer)
Description
The choral book for Our Flag Was Still There. From the words scrawled by Francis Scott Key of 1814, to the valiant struggle of six Marines to plant American colors on Iwo Jima, to the empowering sight of New York firefighters raising the stars and stripes against the desolation of 9/11, the American flag has come to symbolize the freedoms, rights, and personal liberty that Americans cherish. It is out of this sense of national heritage and faith in freedom that this musical was borne. This masterfully blends narrations with inspiring testimonies and powerful new songs with traditional anthems, challenging the listener to "pledge allegiance again" not only to the flag, but to God and country. Moderate. SATB. 40 Minutes.
Bulk Pricing
Buy 10–49 for $6.36 each
Buy 50–99 for $5.96 each
Buy 100–up for $5.57 each
Please call 1-800-368-7421 to order.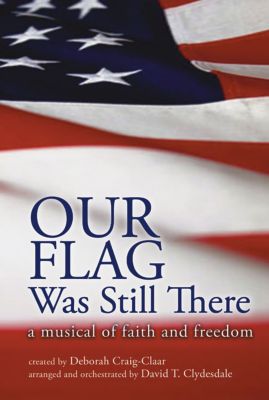 Our Flag Was Still There Choral Book
Specifications
Height

0.25

Length

10.30

Width

6.85

Product Group

Music for Worship

Type

Choral Book

Publication Date

2004-12-01

Publisher

WORD Entertainment

Item Number

001265960

ISBN10

0999918753

ISBN13

9780999918753

UPC

080689722172

Contributors

Craig-Claar/Clydesdale (Composer)