One Quiet Night Soprano Rehearsal CD
Kingsmore, Richard (Arranged by) , Petak, Heidi (Created by) , Wood, Tony (Created by)
Description
The soprano rehearsal CD for One Quiet Night. Christmas. Stress. They seem to go hand in hand. Why is it that the time of "Peace on Earth" is anything but peaceful? A harried mom, Kelly, frantically pushes through the rush of the Christmas season until an unexpected accident forces her to stop dead in her tracks. Left at home alone while her family goes to church, Kelly discovers that the important thing at Christmas is not what gets her attention, but who. Filled with delightful new songs and familiar carols, the pivotal truth of this real-life dramatic musical will impact the hearts of viewers as they see Kelly in themselves. SATB. Moderate. 50 Minutes.
Bulk Pricing
Buy 10–49 for $4.00 each
Buy 50–99 for $3.75 each
Buy 100–up for $3.50 each
Please call 1-800-368-7421 to order.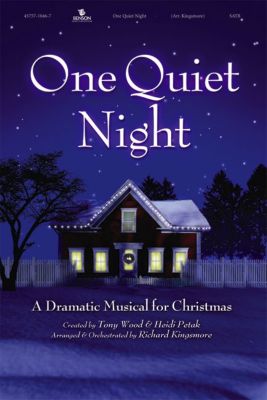 One Quiet Night Soprano Rehearsal CD
Specifications
Height

0.40

Length

5.60

Width

4.90

Language

English

Medium Format

CD

Performance Type

Solo

Product Group

Music for Worship

Type

Accompaniment Track

Publication Date

2005-05-17

Publisher

Provident Music Distribution

Running Time

50:00

Difficulty

Moderate

Item Number

001284703

ISBN10

9999906606

UPC

645757104702

Contributors

Kingsmore, Richard (Arranged by) , Petak, Heidi (Created by) , Wood, Tony (Created by)