On This Very Night Book
Goss, Lari (Arranged by) , Worley, Karla (Author) , Goss, Lari (Orchestrated by)
Description
This Christmas, stand in the shoes of those who first heard the incredible news that Christ had come! Imagine being present when Jesus was born. How would it feel to know that at this moment you are in the presence of God—that on this very night, everything's changed: God is among us! Blending traditional carols with fresh musical expression and thought-provoking narration, On This Very Night reveals a heartfelt perspective and profound truth: God came to real people, and His coming had real implications for their lives. How we respond to God reveals the condition of our hearts. Sometimes, what is revealed is a surprise to us. 42 minutes. Easy. SAT(B).
Bulk Pricing
Buy 10–49 for $7.16 each
Buy 50–99 for $6.71 each
Buy 100–up for $6.27 each
Please call 1-800-368-7421 to order.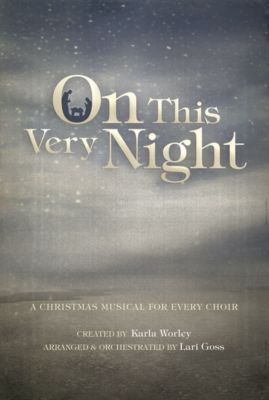 On This Very Night Book
Specifications
Binding

Paperback

Height

0.30

Length

10.30

Width

6.80

Language

English

Medium Format

Print

Pages

118

Product Group

Music for Worship

Type

Songbook

Publisher

Word

Difficulty

Easy

Item Number

005104356

UPC

080689420177

Contributors

Goss, Lari (Arranged by) , Worley, Karla (Author) , Goss, Lari (Orchestrated by)