O Great Redeemer P&W Easter BK
Cottrell, Travis (Author) , Cottrell, Travis (Created by) , Semsen, Daniel (Orchestrated by)
O Great Redeemer offers songs for the entire season, including Palm Sunday and Easter Sunday. This collection is easily adaptable to large and small choirs and/or praise teams using a live worship band or accompaniment tracks. Approximately 50 minute
Description
O Great Redeemer offers songs for the entire season, including Palm Sunday and Easter Sunday. This collection is easily adaptable to large and small choirs and/or praise teams using a live worship band or accompaniment tracks. Approximately 50 minutes. Moderate. SATB.
Bulk Pricing
Buy 10–49 for $7.19 each
Buy 50–99 for $6.74 each
Buy 100–up for $6.29 each
Please call 1-800-368-7421 to order.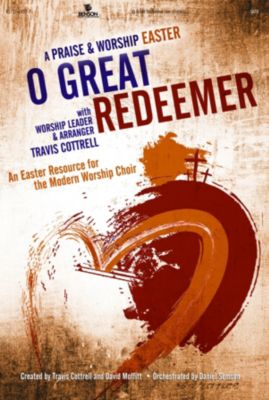 O Great Redeemer P&W Easter BK
O Great Redeemer offers songs for the entire season, including Palm Sunday and Easter Sunday. This collection is easily adaptable to large and small choirs and/or praise teams using a live worship band or accompaniment tracks. Approximately 50 minute
Specifications
Binding

Paperback

Height

0.32

Length

10.25

Width

7.00

Genre

Praise & Worship

Language

English

Medium Format

Print

Pages

154

Product Group

Music for Worship

Type

Choral Book

Publisher

Benson Music

Item Number

005419070

UPC

645757193775

Contributors

Cottrell, Travis (Author) , Cottrell, Travis (Created by) , Semsen, Daniel (Orchestrated by)