No Solos Allowed Alto
Duren, Cliff (Other)
Description
Regardless of the style of music or the repertoire, there is an unmistakable sound and energy that emanates from all of those individuals singing out at the top of their lungs, with the sound coming out as one amazing, powerful voice of praise. No Solos Allowed sets the stage for your choir by providing 10 all-choir-all-the-time arrangements by Cliff Duren. It is a bold new choral project overflowing with songs made popular by Michael W. Smith, Laura Story, Keith Getty, Mandisa, Selah, and more.
Bulk Pricing
Buy 10–49 for $5.63 each
Buy 50–99 for $5.31 each
Buy 100–up for $5.00 each
Please call 1-800-368-7421 to order.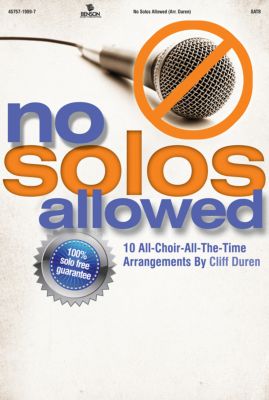 No Solos Allowed Alto
Specifications
Age Max

0

Age Min

0

Height

0.00

Length

0.00

Width

0.00

File Size

0

Language

English

Medium Format

Audio

Pages

0

Product Group

Music for Worship

Publication Date

2010-11-01

Publisher

Benson Choral

Item Number

005462624

ISBN13

0645757196059

UPC

0645757196059

Contributors

Duren, Cliff (Other)