Miracle on Main Street Bulk CDs
Clydesdale, David T. (Arranged by) , Clydesdale, David T. (Author) , Davis, Mark (Author) ...View All Contributors
Description
The bulk CDs for Miracle on Main Street. Today more and more communites are struggling with the word "Christmas." Where mangers once stood and carols were sung, Christ is continuing to be dropped in favor of "holiday" celebrations. An engaging script and upbeat blend of new songs with traditional carols chronicle the dilemma of a group of children who want to celebrate Christmas in public, but face opposition from the politically correct local townspeople. Despite the challenges, the children stand up for their beliefs and joyfully proclaim their faith. Unison/2 pt. Easy. 40 Minutes.
Bulk Pricing
Buy 10–49 for $47.96 each
Buy 50–99 for $44.96 each
Buy 100–up for $41.97 each
Please call 1-800-368-7421 to order.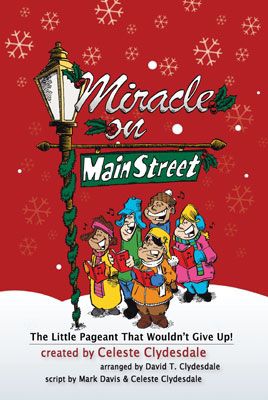 Miracle on Main Street Bulk CDs
Specifications
Height

0.90

Length

5.20

Width

5.10

Language

English

Medium Format

CD

Product Group

Music for Worship

Publication Date

2000-12-01

Publisher

Christian Network Inc.

Item Number

001304234

ISBN10

9999909589

UPC

80689675720

Contributors

Clydesdale, David T. (Arranged by) , Clydesdale, David T. (Author) , Davis, Mark (Author) , Clydesdale (Composer)