Marvelous Grace - Choral Book
Lister, Mosie (Arranged by) , Lister, Mosie (Author) , Lister, Mosie (Compiled by)
Description
Gospel Music Hall of Fame songwriter Mosie Lister brings his arranger's touch to Marvelous Grace, a compilation of 22 arrangements for ladies' voices.
Ideal for choir, ensemble, or trio
Features some of Mosie's best-loved songs, some of today's popular gospel titles, original songs, and three a cappella selections
SSA and SSAA formats
Accompaniment trax and a beautiful demonstration recording add a whole new dimension to this collection.
Sample songs: All of Me; Beyond the Cross; Call Home; Grace Greater than Our Sins; His Hand in Mine; O Lord, How Wonderful; The Man on the Middle Cross; Wedding Music; and many more.
Bulk Pricing
Buy 10–49 for $7.19 each
Buy 50–99 for $6.74 each
Buy 100–up for $6.29 each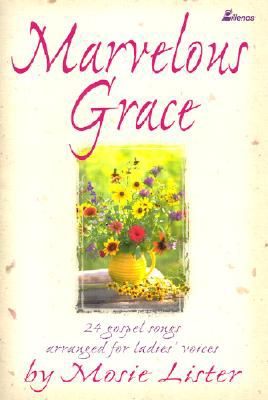 Marvelous Grace - Choral Book