Love Won - Listening CD
Duren, Cliff (Arranged by) , Kirkland, Camp (Arranged by) , Knight, Bradley (Arranged by) ...View All Contributors
Description
This Listening CD contains demonstration recordings of this entire musical or collection.
TITLES:He Lives Medley (includes He Lives Forevermore, Christ Arose, Christ the Lord Is Risen Today, and Alleluia); Come and See; Broken; Love Won; He Lives Forevermore.
When purchased in quantities of 10 or more, Listening CDs are available at a reduced rate.
Bulk Pricing
Buy 10–49 for $10.39 each
Buy 50–99 for $9.74 each
Buy 100–up for $6.99 each
Buy 100–up for $9.09 each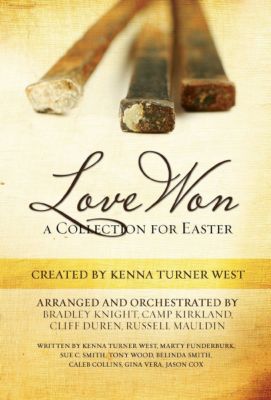 Love Won - Listening CD
Specifications
Binding

Shrink-Wrapped

Height

0.06

Length

5.00

Width

4.95

Genre

Southern Gospel

Language

English

Medium Format

CD-Audio

Performance Type

Choir

Product Group

Music for Worship

Type

Listening Track

Publication Date

2011-09-15

Publisher

Daywind Music

Difficulty

Medium

Voicing

SATB

Item Number

005482747

UPC

614187182727

Contributors

Duren, Cliff (Arranged by) , Kirkland, Camp (Arranged by) , Knight, Bradley (Arranged by) , Mauldin, Russell (Arranged by) , Duren, Cliff (Orchestrated by) , Kirkland, Camp (Orchestrated by) , Knight, Bradley (Orchestrated by) , Mauldin, Russell (Orchestrated by)