LifeWay WorshipMedia - MPEG1 Accompaniment Video Collection DVD-ROM, Volume 3
Description
The MPEG1 Accompaniment Video Collection includes full motion videos for one hundred of the most-used hymns and worship songs in the LifeWay Worship Project. These videos include:
Split track audio, with instruments on one channel and background vocals on the other.
No melody or solo line is sung.



Lyrics, in a variety of font styles.
These videos are designed for use with Advanced Presentation Media software such as MediaShout®, EasyWorshipTM, and ProPresenterTM. They are NOT playable in Microsoft PowerPoint® or on a standard DVD player.
WorshipMedia DVDs and DVD-ROMs are not returnable.
From time to time, the musical key in the accompaniment video tracks may not correspond to the printed key in the hymnal or WorshipCharts printed arrangement.
TITLES: All Is Well; Come, Thou Fount of Every Blessing; Did You Feel the Mountains Tremble; Doxology; Give Us Clean Hands; God of Wonders; Hungry; In Christ Alone; Joy to the World! The Lord Is Come; Like a River Glorious; Lord, I Lift Your Name on High; Meet with Me; My First Love; My Jesus, I Love Thee; O for a Thousand Tongues to Sing; Once Again; Softly and Tenderly; To God Be the Glory; You Always Take Care of Me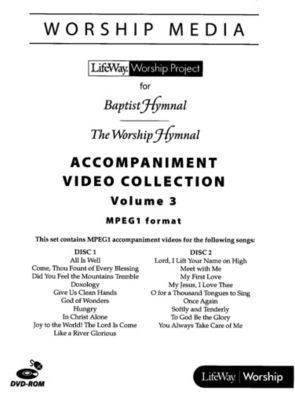 LifeWay WorshipMedia - MPEG1 Accompaniment Video Collection DVD-ROM, Volume 3
Specifications
Binding

Shrink-wrapped

Height

0.41

Length

5.90

Width

4.90

Language

English

Medium Format

DVD-ROM

Performance Type

Congregational

Product Group

Music for Worship

Type

Hymnal

Publication Date

2008-08-08

Publisher

LifeWay Worship

Item Number

005085970

UPC

634337059747