Leviticus: A Self-Study Guide
Jensen, Irving L. (Author)
Description
Has the book of Leviticus been difficult for you to study? Have you wondered what relevance this ancient book has to the New Testament Christian? This self-study manual will guide you into a new understanding of and appreciation for one of the most important books of the Bible.

As you study, you will be brought face to face with the holiness of God and the sinfulness of man. You'll gain fresh insight into God's requirements for cleansing and fellowship with Himself through the sacrificial system, which pointed to the future finished work of the Lord Jesus Christ at Calvary.

If you are looking for a comprehensive, challenging tool to use in personal, group, or class Bible study, you'll find the Jensen Bible Self-Study Guide series an exciting way to better understand the important truths of God's Word. Each response-oriented guide in the 39-book series features helpful charts, graphs, maps, and ideas for projects and further study. You'll refer back to each completed guide as a reference again and again as you study the Scriptures. This study series has enabled millions to effectively explore and understand God's eternal message, and it continues to be the most widely used tool for Bible study today.
Bulk Pricing
Buy 10–49 for $8.99 each
Buy 50–99 for $8.49 each
Buy 100–up for $7.99 each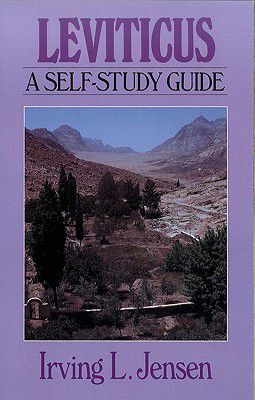 Leviticus: A Self-Study Guide
Specifications
Age Max

0

Age Min

0

Height

0.34

Length

8.72

Width

5.66

File Size

1

Language

English

Medium Format

Paperback

Pages

108

Product Group

Books

Type

Non-Fiction

Publication Date

1991-11-01

Publisher

Moody Publishers

Item Number

005017322

ISBN10

0802444822

ISBN13

9780802444820

Contributors

Jensen, Irving L. (Author)