Let There Be Light Choral Book
Knight, Bradley (Arranged by) , Knight, Bradley (Orchestrated by)
Description
The choral book for Let There Be Light. From the beginning the Father had a magnificent plan for the redemption of man. And on a still, starry night in Bethlehem, the Light of the world was born. We are called to spread the Good News so that one day the presence of Jesus will sine in every heart and every home. SATB. Medium. 60 Minutes.
Bulk Pricing
Buy 10–49 for $6.36 each
Buy 50–99 for $5.96 each
Buy 100–up for $5.57 each
Please call 1-800-368-7421 to order.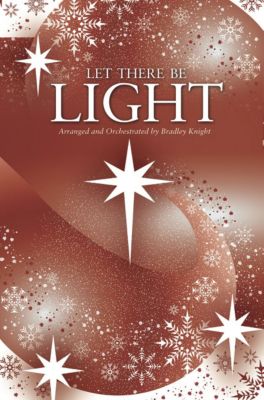 Let There Be Light Choral Book
Specifications
Binding

Paperback

Height

0.25

Length

10.30

Width

6.90

Language

English

Medium Format

Print

Product Group

Music for Worship

Type

Songbook

Publication Date

2000-12-01

Publisher

Provident Music Distribution

Difficulty

Moderate

Item Number

001305529

ISBN10

9999909756

UPC

645757119478

Contributors

Knight, Bradley (Arranged by) , Knight, Bradley (Orchestrated by)