Interrupted: An Adventure in Relearning the Essentials of Faith - Member Book
Hatmaker, Jen (Author)
Description
Interrupted: An Adventure in Relearning the Essentials of Faith - Member Book provides the learner a study resource for this young adult Bible study. The American Dream and Christianity Aren't the Same Thing! God is in the business of interrupting what we think our lives are about. Jen Hatmaker argues that we have missed the point, confusing Christianity with the American Dream and manipulating Scripture to say what we want it to say. Interrupted is about freedom from consumer-driven Christianity and getting back to the true faith, real life, real justice, real religion. (5 sessions)
Features:
Leader helps included
Corresponds to the Digital Leader Kit
May also be used without Digital Leader Kit
Author:
Jen Hatmaker happily lives in Austin, Texas, where the city motto is "Keep Austin Weird." (and she is certainly doing her part.) Jen and her husband, Brandon, have three kids—Gavin, Sydney, and Caleb—though the 6-year-old recently suggested that rather than belong to a family who has to "learn to make good choices," he'd rather be homeless. (As of this writing, he hasn't taken to the streets yet.) Brandon and Jen joined the adventurous, neurotic world of missional church planters in March 2008 when they started Austin New Church, a community of faith obsessed about bringing justice and restoration to the city and the world. God continues to move mightily through this young church despite the good to excellent chance Jen and Brandon have of sabotaging it. Jen has written seven other books and Bible studies, including The Modern Girl's Guide to Bible Study series and Ms. Understood. She travels all over the United States speaking at conferences and retreats, even to Iowa during a blizzard though she doesn't own a coat (Austin may be weird, but it's warm).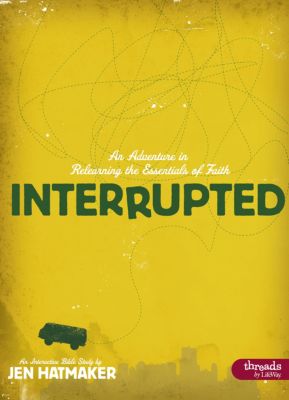 Interrupted: An Adventure in Relearning the Essentials of Faith - Member Book
Free Downloads
Right-click on the link. Select the "Save Target As", "Save Link As", or "Download Linked File As" option on the popup menu. Choose a location to save the file, then click the Save button.
Product Sample (1.591 MB PDF)
Specifications
Binding

Paperback

Height

0.30

Length

9.50

Width

7.00

Language

English

Medium Format

Paperback

Pages

128

Product Group

Bible Study

Type

Study Guide

Publication Date

2012-01-16

Publisher

Threads by LifeWay

Sessions

5

Item Number

005492337

ISBN10

1415873348

ISBN13

9781415873342

Contributors

Hatmaker, Jen (Author)